Free Fully Insured Delivery *

Call us on 0800 090 3256
Buy CGT Free Gold Coins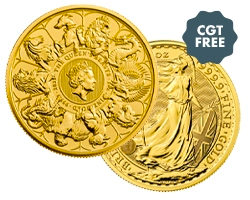 No Capital Gains Tax on Profits From These CGT Free Gold Coins.
Because these Gold coins are UK legal tender, the profits that you make by buying and selling them are not counted towards your personal Capital Gains Tax threshold of £12,300 for the current tax year. Read more about Capital Gains Tax
Pay securely online with Credit/Debit Card or by Bank Transfer with Free UK Delivery.
Can't find what you're searching for?
Call us on 01902 623 256 and speak to our Sourcing Team.
1838-1887 Gold Full Sovereign (Victoria, Young Head Shield Back)

Free Insured Delivery


2015 1/4oz Sheep Gold Coin | Lunar Series | The Royal Mint

Free Insured Delivery


Gold Full Proof Sovereign (Boxed)

Free Insured Delivery


2017 Queen Elizabeth II Sapphire Jubilee Gold Proof £1 Coin | The Jubilee Mint

Free Insured Delivery

Capital Gains Tax Free status in the UK is awarded to UK legal tender coins. Gold coins produced by The Royal Mint are therefore Capital Gains Tax Free in addition to being VAT Free gold.
The most popular CGT Free gold coins are Sovereigns and Britannias but many special and limited edition coins are also included.
All of the products offered by UK Bullion as CGT Free gold coins are fully compliant with HMRC requirements and fully certified.