Free Fully Insured Delivery *

Call us on 0800 090 3256
For Christmas delivery order dates and the latest on how Royal Mail industrial action could affect your order Read More.
Buy VAT Free Gold Bullion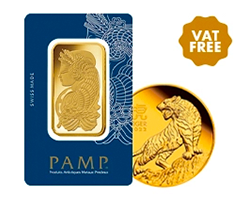 Welcome to our VAT Free Gold section.
We offer one of the widest ranges of VAT Free gold bullion in the UK. Products can be purchased securely online by debit or credit card or by bank transfer and all purchases include free, fully insured UK delivery.
Can't find what you're searching for?
Call us on 01902 623 256 and speak to our sourcing team.
1 Kilogram Gold Cast Bar Metalor

1kg | Cast Gold Bar Umicore

500g Cast Gold Bar | Umicore

500 Gram Cast Gold Bar Metalor

250g Gold Cast Bar | Metalor

250g Cast Gold Bar | Umicore

250g Gold Bar | Investment Market

Free Insured Delivery
£/g to £/g Over Spot

More Info

| QTY | VAT Free |
| --- | --- |
| 1+ | £12,409.85 |
| 2+ | £12,397.44 |

25x 2022 Gold Full Sovereigns in Tube | The Royal Mint

Free Insured Delivery


5oz Gold Bar | Investment Market

Free Insured Delivery
£/g Over Spot
To qualify as VAT Free gold bullion, products must adhere to strict standards set by HMRC:
VAT Free gold bars must have a purity of 995/1000 or better and be of a weight that is accepted by the bullion markets.
VAT Free gold coins must have been minted after 1800, have a purity of not less than 900/1000, be or have been legal tender in their country of origin and not normally sold at a price in excess of 180% of the open market value of the gold in the coin.
These definitions are contained in VAT Notice 701/21.
All investment gold bars and coins that we offer for sale are fully compliant with HMRC requirements.
In addition to being VAT Free, certain UK gold coins are also Capital Gains Tax Free.