£1m in Gold found on Plane
---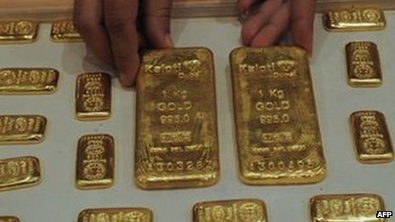 Almost £1m worth of Gold bars have been found in a toilet compartment on a plane in eastern India.
The assorted Gold Bullion bars were left stashed in two bags on a Jet Airways flight at Kolkata airport in West Bengal, officials have confirmed, and is thought to be an attempt to smuggle the precious metal into the country due to a high demand for the precious metal.
Legal imports of Gold face duties of up to 15% on jewellery items and a tax of 10% on Gold Bullion Bars and other 'raw' Gold.
News source: bbc.co.uk.