Free Fully Insured Delivery *

Call us on 0800 090 3256
Buy Silver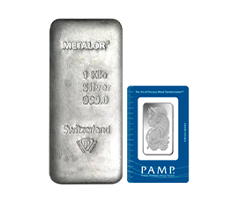 We offer one of the widest choices of Silver Bullion Bars and Coins sourced from leading manufacturers around the World.
Our products range from low cost per Gram, cast metal Investment Silver Bars to beautifully designed and minted Proof Silver Coins for the collector.
Your purchase will include free, fully insured delivery in the UK.
We accept payments by Bank Transfer or online payments by credit or debit card, up to the value of £10,000, via a secure payment portal supplied by our processing partners.
Investors in Silver will be particularly interested in our VAT Free Silver Offer. Buy fully allocated Silver Investment Bars or coins, which are already securely vaulted in UK LBMA vaults, VAT FREE.
For further details of our range of Silver Bars and Coins or to enquire about any specific item that you are searching for please call us on 01902 623 256.
Here at UKBullion.com we offer a range of the finest quality silver bars and silver coins in the UK.
Our products are sourced from world renowned mints and manufacturers including The Royal Mint, Metalor and Umicore to name but a few.
Silver bullion products are subject to VAT in the UK once they are in general circulation. Therefore, silver products purchased for UK delivery will attract VAT at 20%.
We can offer VAT Free silver bullion products that are securely vaulted in the UK within the LBMA system.
Investors will be particularly interested in our range of Capital Gains Tax Free silver coins which are UK Legal Tender and produced by The Royal Mint.
All of our products are accompanied by a certificate of authenticity and include free, fully insured UK delivery as standard.
Our Customer Service Team are amongst the best in the industry with an unbeatable 5/5 'Excellent' rating by Trustpilot. Contact us by telephone on 0800 090 3256 or by Live Chat during office hours or send us an email to [email protected] if you have any questions or if you need assistance.