Free Fully Insured Delivery *

Due to staffing issues our phone lines will be closed until 9.30am Monday 6th April. You can still place orders through the website and LOCK IN PRICES for dispatch once shipping arrangements return to normal.
Buy Gifts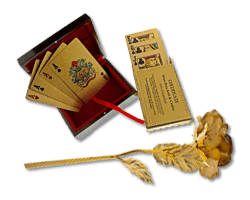 Welcome to our Gifts section.
We offer an interesting range of Premium gifts for all occasions.
Pay securely online with Credit/Debit Card or by Bank Transfer with Free UK Delivery.
Can't find what you're searching for?
Call us on 01902 623 256 and speak to our sourcing team.
20 Gram Silver Coloured Round MMTC-PAMP Tri God in Presentation Box

Free Insured Delivery
£/g to £/g Over Spot
1oz Silver Round MMTC-PAMP Coloured Tri-God Design in presentation box

Free Insured Delivery
£/g to £/g Over Spot

100 Gram Silver Bar MMTC-PAMP Goddess Lakshmi & Lord Ganesh Premium

Free Insured Delivery
£/g to £/g Over Spot

2018 5 Gram Gold Bar PAMP Lunar Dog Certicard

Free Insured Delivery


2020 5 Gram Gold Bar PAMP Lunar Rat Certicard

Free Insured Delivery


5 Gram Gold Bar PAMP Cross - Faith Series

Free Insured Delivery


2020 Gold Full Sovereign

Free Insured Delivery


2018 8 x 1 Gram Gold Bar PAMP Lunar Dog Multigram

Free Insured Delivery


10 Gram Gold Bar PAMP 'Faith' Romanesque Cross

Free Insured Delivery


2020 1oz Gold Britannia

Free Insured Delivery


1oz Gold Bar PAMP 'Faith' Romanesque Cross

Free Insured Delivery