Free Fully Insured Delivery *

Call us on 0800 090 3256
Buy Gold Coins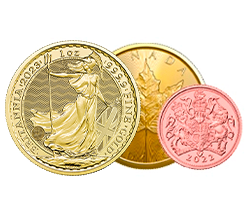 Coveted for thousands of years, Gold Coins have always had an intrinsic appeal to both collectors and investors. Once seen as an exclusive sign of wealth and power, Gold Coins are now within the reach of many people and can be an ideal way to begin an investment portfolio. We stock a wide range of coins from the major mints around the world including Sovereigns, Britannias, Krugerrands, Eagles, Philharmonics, Pandas and Kangaroo coins in all the popular weight options. Remember that we also stock a range of accessories to complement, display and protect your Gold Coin collection. If you can't find what you're looking for a member of our customer service team will be happy to help.
Why Buy Gold Coins Online?
To qualify as VAT free investment quality, gold coins must be: 'minted after 1800 with a Gold purity of at least 900 parts in 1000. Such coins must be or have been legal tender in their country of origin and are normally sold at a price that does not exceed 180% of the value of the Gold contained in the coin.'
All of our coins satisfy the requirements for VAT free status and in addition, our range of British Gold Coins, produced by The Royal Mint, is Capital Gains Tax free.
What is The Best Way To Buy Gold Coins?
The worst way to buy gold coins is through an online auction site. We have heard many horror stories from people who have bought goods at apparently bargain prices only to find that they have ended up with sub-standard and counterfeit coins and a seller who has disappeared.
The best way to buy gold coins safely and securely is through an online distributor such as UKBullion.com. Our secure and verified website provides lots of good information and images of the products that we sell and you can browse without the pressure of a sales assistant hovering in the background. Check out our extensive customer reviews and rest assured that you'll be getting an excellent service when you buy gold coins from us.
All of our gold coins are priced in line with the global live gold price which is updated every five seconds to ensure that you are getting the most up to date pricing possible.
We offer an excellent collection of VAT Free gold coins, including Gold Britannias and Gold Sovereigns which are also Capital Gains tax Free.
Our Range of Gold Coins.
Take time to browse our range of gold coins which include:
Gold Sovereign – available from the reigns of the British monarchs from Queen Victoria through to Queen Elizabeth II. Sovereigns weigh 7.988 grams and are minted from 22 carat 916.7 purity gold. Each coin contains 7.32 grams of fine gold. Sovereigns are available in ¼ and1/2 versions as well as double and quintuple. The Sovereign has a monetary value of £1 and is British legal tender. As such Sovereigns are CGT and VAT free.
Gold Britannia – first minted in 22 carat 916.7 purity gold from 1987 to 2012. The Britannia has a face value of £100. From 2013 to the present day these coins have been minted in 24 carat 999.9 gold and contain 1 Troy ounce of fine gold. Also available as ½ oz, ¼ oz and 1/10 oz versions.
Gold Krugerrand, – minted by the South African Rand Mint to the same design and specification since 1967, the only changes made to these coins are the date stamps. Composed of 22 carat 916.7 gold, the coins weigh 33.93 grams and contain 1 Troy ounce of fine gold. Also available as ½ oz, ¼ oz and 1/10 oz versions.,
Gold Maple Leaf – minted in Canada by The Royal Canadian Mint since 1979 and known for its striking maple leaf motif. Initially, the coin was minted from 999.0 purity gold but this was increased to 999.9 purity from 1982 onwards. Each coin contains 1 Troy ounce of fine gold. Also available as ½ oz, ¼ oz and 1/10 oz versions.
American Gold Coins – consisting of the 22 carat 916.7 Eagle, the 900.0 purity Double Eagle and the 24 carat 999.9 Buffalo coins.
Australian Gold Coins – mainly produced by Perth Mint but we do often stock gold coins from the Royal Australian Mint too. Perth Mint coins are well known for their excellent production standards and pleasing designs. Most well-known are the Nugget or Kangaroo coins and the intricate designs of the Lunar Series which are produced to commemorate the changing characters associated with Chinese New Year.
European Gold Coins – including Austrian Philharmonics and Ducats, and Netherland Guilders.
Chinese Gold Coins – the famous Chinese Gold Panda, produced by the People's Bank of China since 1982 in 999.0 gold. Between 1982 and 2015 the coins were produced in 1 Troy ounce and smaller ½, ¼ and 1/10 oz sizes. From 2016 the coins have been produced in gram weights, the most popular being the 30g and 8g versions.
Buy gold coins from UKBullion.com, a reputable and well-known UK-based family business. Every purchase comes with free, fully insured delivery in the UK.
Our customer service team is rated as Excellent on Trustpilot and is here to help.