Free Fully Insured Delivery *

Call us on 0800 090 3256
Buy Gold Britannias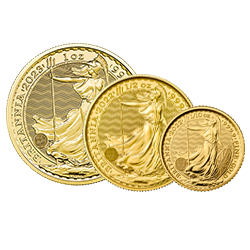 The Gold Britannia is the UK's leading gold bullion coin. Minted from 24 carat 999.9 gold since 2013 and from 22 carat 916.7 gold between 1987 and 2012, the Britannia contains one Troy Ounce of fine gold. In recent years the Royal Mint has made several design changes to produce a coin that is growing in popularity with investors and collectors around the world.
Looking for a box or pouch to make your purchase the perfect gift or need a safer way to store your coins, we have a wide range of Gifts & Accessories available.
Can't find what you're searching for? Call our Sourcing Team on 01902 623 256.
2024 10 x 1oz Gold Britannia Coins in a Tube | The Royal Mint

Free Insured Delivery
£/g to £/g Over Spot

2023 10 x 1oz Gold Britannia Coins in a Tube (King Charles III Portrait) | The Royal Mint

Free Insured Delivery
£/g to £/g Over Spot
What is a Gold Britannia?
Gold Britannias are the UK's leading 24 carat gold investment coin produced by The Royal Mint at Llantrisant in Wales. Each coin contains 1 Troy Ounce or 31.1035 grams of fine gold.
The Britannia was first produced in 1987 from 22 carat gold as an alternative to the popular South African Krugerrand but the growing popularity of 24 carat gold investment coins led to a change of the gold purity in 2013. Britannias minted from 2013 to the present day were manufactured from 24 carat 999.9 gold.
Why Should I Buy Gold Britannias?
Gold Britannias are legal tender in the UK with a face value of £100. Their gold content is therefore guaranteed by the Royal Mint on behalf of the UK Government.
Due to their legal tender status, Gold Britannias are CGT exempt which means that any profits made by an investor when the coins are sold will not be taken into account when assessing a Capital Gains Tax liability. This can make for an attractive incentive for investors with a diverse portfolio who wish to liquidate a range of assets during a short period in the future.
The market for Gold Britannias is very liquid, they are easily sold when an investor wishes to cash in an investment.
Where Should I Buy Gold Britannias?
We believe that UKBullion.com is the obvious choice for anyone wishing to buy Gold Britannia coins online in the UK as we always stock the most recent mintage and often stock interesting and collectable coins from previous years.
Gold Britannias are available as single coins, tubes of ten coins and 'monster boxes' of 100 coins in Royal Mint original storage boxes.
Buy Gold Britannias today from UK Bullion, a reputable and well-known UK-based family business.
Our outstanding customer service team - who have received a 5/5 positive rating in independent reviews on the Trustpilot Review Platform, are available by telephone, email or live chat to offer any help that you may need.