Free Fully Insured Delivery *

Call us on 0800 090 3256
Due to high demand order dispatch may be delayed by 2-3 days.
Popular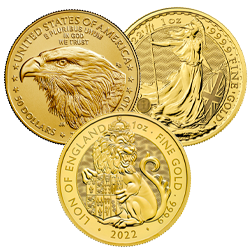 See the list below of our most popular gold coins.
Looking for a box or pouch to make your purchase the perfect gift or need a safer way to store your coins, we have a wide range of Gifts & Accessories available.
Find your new favourite today
2022 1/2oz Britannia Gold Coin in Blister | The Royal Mint

Free Insured Delivery


2022 1/2oz Britannia Blister Gold Coin in Premium Gift Box | The Royal Mint

Free Insured Delivery


2023 1oz Gold Krugerrand | South African Mint

Free Insured Delivery


2023 1oz Gold Kangaroo Coin | The Perth Mint

Free Insured Delivery


2023 1oz Gold Philharmonic Coin | Austrian Mint

Free Insured Delivery


2023 1oz Gold Britannia QEII Coin | The Royal Mint

Free Insured Delivery


2022 1oz Gold Britannia Coin | The Royal Mint

Free Insured Delivery


Mixed Years 1oz Gold Nugget Coin | The Perth Mint

Free Insured Delivery


2022 1oz Britannia Gold Coin in Blister | The Royal Mint

Free Insured Delivery


2022 1oz 'Royal Arms' Gold Coin | The Royal Mint

Free Insured Delivery


2023 1oz Buffalo Gold Coin | The US Mint

Free Insured Delivery


2022 1oz Gold Kangaroo Coin | The Perth Mint

Free Insured Delivery


More Info

| QTY | VAT Free |
| --- | --- |
| 1+ | £1,772.34 |
| 5+ | £1,768.80 |

2023 1oz Eagle Gold Coin | The US Mint

Free Insured Delivery


2021 1oz Emu Gold Coin | The Perth Mint

Free Insured Delivery


More Info

| QTY | VAT Free |
| --- | --- |
| 1+ | £1,805.84 |
| 5+ | £1,798.62 |

2022 1oz UK Tudor Beasts Lion Of England Gold Coin | The Royal Mint

Free Insured Delivery


2021 1oz Queen's Beasts 'Completer' Gold Coin

Free Insured Delivery


More Info

| QTY | VAT Free |
| --- | --- |
| 1+ | £2,067.67 |
| 2+ | £2,060.84 |

2023 1oz Gold Britannia 5 Coin Bundle (King Charles III Portrait) | The Royal Mint

Free Insured Delivery