Free Fully Insured Delivery *

Call us on 0800 090 3256
Buy Gold Sovereigns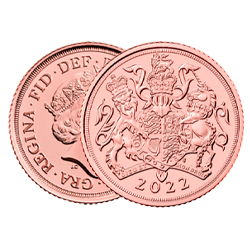 The Gold Sovereign is one of the most readily recognised coins in the world. Produced by The Royal Mint at Llantrisant, South Wales from 22 Carat 916.7 'Crown Gold', the Gold Sovereign is attractive to investors and collectors alike.
Current year mintage coins are available as single items or bulk purchases at discounted rates and we also stock coins from previous years. You can buy Gold Sovereigns VAT free and because of their legal tender status in the UK they are also Capital Gains Tax free.
Looking for a box or pouch to make your purchase the perfect gift or need a safer way to store your coins, we have a wide range of Gifts & Accessories available.
The Gold Sovereign – A Piece of History.
The UK Gold Sovereign is an internationally recognised coin which was first struck in 1489.
During the 1800's, Sovereigns were legal tender in more than 20 countries and were minted in Canada, Australia and India to satisfy demand across the British Empire.
Struck from 916.7 purity, 22 Carat gold, modern Sovereigns feature the iconic St. George and the Dragon motif designed by Benedetto Pistrucci in 1817.
Why Buy Gold Sovereigns Online?
By working as online Bullion Dealers we reduce our operating cost which enables us to pass on savings to our customers in the form of really competitive prices.
Gold Sovereign coins are an excellent choice as they are exempt from VAT and also free from Capital Gains Tax (CGT) when sold on, due to their status as legal tender in the UK.
The size of Gold Sovereigns at 7.99g also adds to the popularity of these coins as they are much smaller and therefore less expensive per coin than traditional 1Oz coins such as Britannias or Krugerrands. Many customers also purchase Gold Sovereigns because of their dates, either as historic links or to mark family occasions.
The primary reason to buy Gold Sovereigns online is the acquisition of gold in a form that is attractive, interesting and easily sold when it is time to liquidate your asset.
The Best of British? Gold Sovereign coins.
Gold Sovereign coins are available as a quarter Sovereign, a half Sovereign, a double Sovereign (£2) and as a quintuple Sovereign (£5).
The current year full or £1 Sovereign is also available in tubes of 25 and in larger investment bundles.
There are many examples of different designs that have been produced for the reverse side of Sovereigns over the years. Shield designs can be found on certain Victorian mintages and in recent years special commemorative images were produced in 2005 and 2012.
In 2017 The Royal Mint released a special commemorative edition Sovereign celebrating 200 years of the modern Sovereign and featuring an additional mint mark to acknowledge the anniversary.
We hope that you enjoy browsing our range of different years and designs of Gold Sovereigns here at UKBullion.com.
How to buy Gold Sovereigns Safely Online.
You should only buy gold coins online from a trusted dealer with a proven track record of excellent customer service. Never buy gold coins from online auction sites.
Always check for independent customer reviews and scrutinise delivery policies. A genuine dealer will have hundreds of positive reviews and will use a recognised courier for insured delivery of your order.
Buy Gold Sovereigns from UKBullion.com, a reputable and well-known UK-based business.
Our outstanding customer service team - who have received a 5/5 positive rating in independent reviews on the Trustpilot Review platform, are available by telephone, email or live chat to offer any help that you may need.