2014 Minted Britannia Coin minted with incorrect obverse
---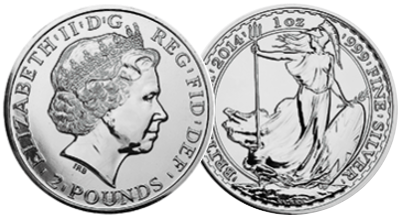 Silver Coin collectors are on the look out for 2014 Britannia and Lunar Year of the Horse coins, as the obverse side of each coin (depicting HM Queen Elizabeth II) was mixed up during manufacturing.
The Britannia coin is usually minted with small 'dentils' around the edge of the obverse side, whilst the design for the Lunar Year of the Horse coin was not intended to have any. The mistake was made during the manufacturing process when the casts were mixed up, as both coins are struck to the same specification and fineness.
To reassure collectors and investors, the Royal Mint issued a statement over the mix up saying: "Some of our recent bullion customers may have noticed a slight change in the design of the edge decoration of our UK 2014 £2 Britannia bullion coin, and the UK 2014 £2 Lunar bullion coin" and continuing with "The quality and value of the coins remains the same."
News source: coinworld.com.