Bullion Coins – The Canadian Maple Leaf
---
Brief history
Minted in 1979 by the Royal Canadian Mint, the Gold Maple Leaf coin has became a highly collectible item throughout the world. In actual fact, more than 25 million troy ounces of the coin have been sold since its debut. By 1982, the Pure Gold content used in the manufacturing of these bullion coins increased to .9999 (or 24 carat). In other words, they are made only of Gold.
Given the succession of the coin, in May 2007, the mint went on to issue the only coin in the world (at the time) to be struck in .99999 pure Gold. These new Gold Maple leaf coins were of limited edition and weighed one Troy Ounce, produced on demand for investors.
In 1988, a Silver Maple Leaf coin was introduced bearing the same design as its gold counterpart, minted in 99.99% silver. Variations of the silver coins have also been distributed featuring various wildlife species; an Arctic Fox, a Canadian Lynx, a Wolf and Grizzly bear. Also by September 2011 three more wildlife coins were produced in this series – featuring a Moose, a Pronghorn Antelope, and lastly a Wood Bison.
Properties
The design of the modern maple coins include a depiction of Elizabeth II on the obverse, as designed by Susanna Blunt in 2003. On the reverse, the Canadian Maple Leaf by RCM's in-house designers in 1979. Gold Maple Leaf coins are produced in .9999 (or 24 carat) and the silver version 99.99% silver. Furthermore, the Canadian Government guarantees the weight, purity and precious metal content of every coin.


Since their inception, maple coins have seen very little change to in regards to appearance. It was only in 2014 when new security features were introduced, in the form of radial lines and a micro-engraved laser mark. That the overall 'look' of the coins had any significant design alterations. Although both coins have seen variations over the years.
Gold Maple Leaf Coins are available in five weights from one ounce, half ounce, quarter ounce, twentieth ounce and tenth ounce. The table below outlines the technical specifications of all the sizes.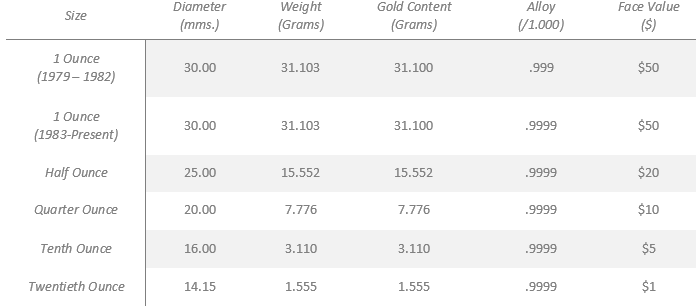 View our range of Maple Leaf Gold & Silver coins on our website by clicking here