Bullion Coins – The Chinese Panda
---
Brief History
Chinese Panda Gold were first issued in 1982 and have since proven to be an extremely popular choice for bullion investment, both with investors and collectors. These coins initially came in denominations of one troy ounce, half troy ounce, quarter troy ounce and one-tenth troy ounce with 0.999 of fine gold content. In 1991 a further Gold Panda coin was added with a fine gold content of 1 gram of gold.
In later editions such as the 2016 and 2017 coins, the denomination changed to grams. These new editions are available in the following sizes; 30 grams, 15 grams, 8 grams, 3 grams and 1 gram. Gold Panda coins are struck by several Mints, including but not limited to: Shanghai, Shenyang, Beijing and Shenzhen. They are also legal tender in the People's Republic of China with denominations of 500, 200, 100, 50 and 20 Yuan.
Introduced in the same year as its gold counterpart, The Silver Panda coin initially came only in Proof form, using 27 grams of Silver. After 1989 the coins had become so popular that they were introduced in Bullion form.
Properties
The obverse of the Gold Panda coin features a depiction of the Temple of Heaven, with the phrase 'The People's Republic of China' written in Chinese. Below the temple is the year of issue. Whereas on the reverse of the coin, the Giant Panda – which has a new design every year.


Many mints issue their bullion coins with a mint-mark so that the origin of a coin can be determined. Gold Panda coins however, do not carry a mint-mark. Since these coins are stricken by various Chinese mints, there are often variations to the coins themselves. For example, the size or the style of the Temple on the obverse of the coin or the size of the date may vary slightly. These minor inconsistencies may allow the Mint of origin to be determined.
Gold Panda Coins are available in five weights from 30 grams, 15 grams, 8 grams, 3 grams and 1 gram. The table below outlines the technical specifications of all the sizes.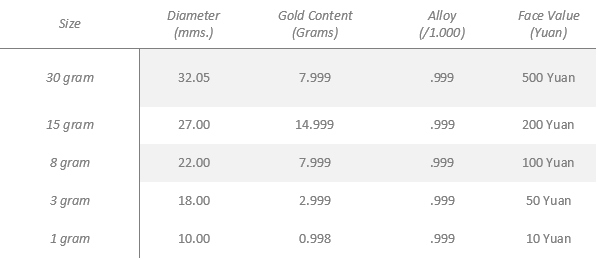 View our range of Gold & Silver Panda coins on our website by clicking here