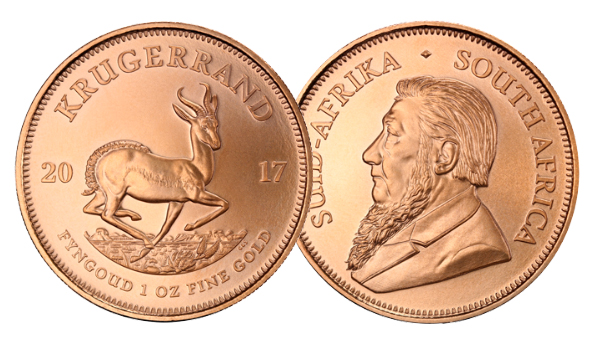 Celebrate the 50th Anniversary of the South African Gold Krugerrand Coin
---
First produced by the South African Mint on 3rd July 1967, the South African gold Krugerrand coin is celebrating its 50th anniversary this year.
During its 50 years in production, the coin has generated billions in foreign exchange revenue, according to MoneyWeb, with just under 53.5 million ounces of gold sold in the coins.
Richard Collocott, the Rand Refinery's executive head of marketing told the publication: "It's more than exceeded any expectations that could have been had at the outset."
Known as the world's original, most successful and widely-traded gold bullion coin, the South African gold Krugerrand coin has a long and prominent history. The idea for the coin was first conceived in 1964 when South Africa was the largest producer of gold in the world. With the backing of the country's government, the Krugerrand was planned to help the country market its gold resources through the legal tender of gold bullion coins.
Today, the coin is still considered legal tender. Approved by the South African government and issued by the South African Reserve Bank, it can be sold for cash in most places in the world.
The first gold bullion coin to contain one troy ounce of gold, it was the leading gold bullion product across most of the world in the 1970s, although some Western countries prohibited its introduction due to its association with the apartheid in South Africa.
Since then, production levels and sales have varied, but there's no doubt that this South African coin is here to stay; they are quite simply one of the most famous gold bullion coins in the world.
UK demand for the South African gold Krugerrand coin has remained strong post-Brexit as people remain nervous about the future financial and political situation and seek to protect their wealth for the long-term in physical investments.
Speaking of predictions for 2017 and beyond, Collocott told the news source: "We anticipate and we have every intention for Krugerrands to remain, if not the top-selling gold coin in the world, in the top-three."
View the latest one ounce 2017 South African gold Krugerrand coin and live spot prices on the trusted UK Bullion site now.