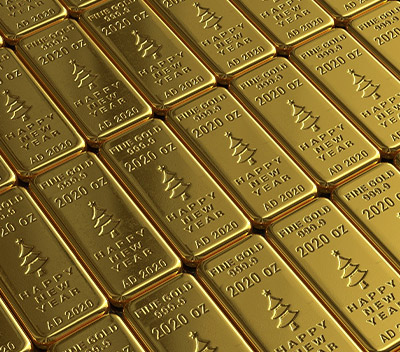 Get 2020 Vision for the Year Ahead with Gold
---
Summary: This year has been a testing time for investors, as Brexit uncertainty persists. Despite this, Gold offers an opportunity for clarity in the year ahead.
Three years of Brexit uncertainty have been weighing heavily on the minds of many investors. Since June 2016, there has been a scramble by many to make sure that they have been investing in the right places, to avoid losing out as markets digest the latest news.
Gold has been consistently outperforming traditional assets such as shares and bonds for many months now, and as we move into a new decade, it is likely to offer greater clarity for investors, as the gold price continues to climb a wall of worry for investors.
2020 vision for the future
How convenient that, at a time of great uncertainty, we're heading into 2020. The one thing investors will be craving as we enter the 2020s will be clarity about having made the right investment decisions for their portfolio. Buying gold is one way to get 2020 vision for the future, as prices have staged an impressive rally.
If you had bought the yellow metal back in early 2015, naysayers may have tried to tell you that the long-term gold bull market was dead. Gold prices had peaked in 2011 and had been apparently heading in only one direction – lower and lower for the foreseeable future.
Since 2015 however, concerns over the global economy, as well as Brexit uncertainty have helped boost gold prices, especially here in the UK, as the pound has fallen close to historical lows against major currencies such as the Dollar and the Euro. Gold prices have leapt by as much as 75 per cent between early 2015 and October 2019, far-outpacing any of the gains seen in the stock market or the bond market.
Prices are also in a sweet spot for investors interested in buying gold. That's because gold prices have been touching all-time highs since the late summer this year, passing the £1,200 per troy ounce price barrier in early August. Gold has been able to consolidate its price position above this level, suggesting that any slight dips in price could be an ideal time to buy gold.
If you're interested in seeing where gold prices go next, check out UK Bullion's very own Live Gold Price Chart. It's updated every five seconds with data based on official market prices, allowing you to find the best time to buy gold, to take advantage of price action.
Gold Britannia for the year ahead
The next year could play host to a wide range of developments in the markets. That's why it's important to arrange your portfolio in a way that leaves you ready to face whatever comes your way. UK Bullion is pleased to be able to present the latest iteration of our Gold Britannia series, the 2020 Gold Britannia.
Her Majesty Queen Elizabeth II has been a figure of stability since ascending to the throne in 1952, and has been a feature of Gold Britannia coins since 1987.
The 2020 Gold Britannia depicts Queen Elizabeth II in what will be her 68th year on the throne, as well as her 94th birthday. No British monarch has ruled for so long, or enjoyed longevity as great as our current monarch. She serves as a bridge between two worlds: the post-war world of rationing and black & television with the increasingly digitised era we live in today.
Based on a design by Philip Nathan, each 2020 Gold Britannia depicts an uncanny likeness of the Queen, with the reverse side of the coin depicting another long-lasting symbol of English tradition – Britannia herself, trident in hand, with her Union Flag shield resting by her side. Despite having a face value of £100, each 1oz Gold Britannia's true value is closer to £1,181 at the time of writing in late October, reflecting the immense store of value to be had, if you buy gold coins.
Gold as a barometer
In an era when the pound in our pockets is devalued and the markets show signs of great stress, gold is able to act as the perfect barometer for uncertain economic times, and also helps investors make great gains, despite the tumult.
You can be sure that if you buy gold with UK Bullion, you're making an investment in the future. Gold has a knack for always being in demand, no matter how turbulent the times are. Think of gold as a safety net, when all other assets crumble under pressure. UK Bullion are gold specialists, and we've been operating in this market, offering attractive bullion items for investment purposes, for a number of years.
Some of our most popular items are included as part of our range of CGT-free gold coins – the perfect investment for anyone who wishes to buy gold coins. That's because they're legal tender, so any profits you make by buying and selling them won't be counted towards your personal CGT threshold of £11,100 for the current tax year (2019-20).
Equally, our range of VAT-free gold bullion items is perfect if you're looking to buy gold bars, and you just need something that feels like a stable investment without having to factor the VAT on top of the overall cost.
Contact us
If you wish to buy gold but would like to make a quick enquiry first, UK Bullion looks forward to hearing from you. Based in Wolverhampton, we invite anyone to book an appointment, if they wish to arrange a meeting face-to-face. You can also contact us by phone and email, as well as by post.
Tel: 01902 623 256

Email: [email protected]