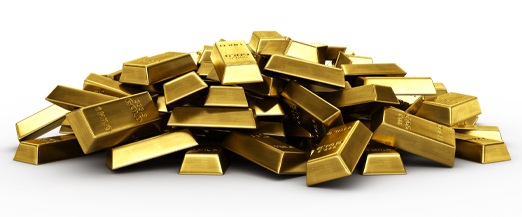 Gold Becomes a Greener Precious Metal
---
Gold is often known by its nickname as the 'yellow metal', but it is actually an incredibly green metal to produce. When you think about most commodities, such as coal, oil, natural gas or copper, it might seem like they can only be extracted from the earth through energy-intensive mining projects.
However, gold is unlike some commodities, which are often used for energy or industrial uses. In 2012, the National Geographic described the position of gold as follows: "Though we depend on energy commodities such as coal or natural gas, we have no national dependence on gold. We just have a penchant for it."
While drilling for oil is going on at an ever-increasing pace, as we need to burn it to fuel our lives, its burning produces greenhouse gases, particulate matter and other pollutants. Gold, on the other hand, is only sought after if the price is right and isn't burnt but simply held and then sold from person to person. Much of the time, we are simply able to make do with the existing finite pool of gold on the world markets, melting stocks down and reusing them. Rising gold prices ultimately boost enthusiasm to buy to the point where new mining ventures become viable and necessary to satiate demand.
See how gold mining itself is now adjusting in a changing world, especially to make good on becoming compliant with the UN's own Sustainable Development Goals (SDGs) as world leaders convene in Glasgow for the latest UN Climate Conference, COP26.
Gold miners clean up their act
While historical records regarding the first gold mines are scarce, it is estimated than humans didn't start mass extraction of gold until almost 7,000 years ago. This is based on the discovery of gold artefacts found deep within the Varna Necropolis in Bulgaria, built sometime during that period. Early mining methods were crude but effective, using hydraulic techniques to remove seams of gold from alluvial (loose sedimentary) deposits.
For thousands of years, gold mining helped fuel the rise of numerous empires and civilisations who saw the intrinsic value of gold. As technology became more advanced in general, so too did the techniques used to extract gold from the earth. Not only that, but the spread of people across the globe over many centuries allowed new discoveries to be made, including rich deposits in the Americas and Oceania, as part of the original Gold Rushes of the 19th century.
In recent years, it is estimated that the gold industry has been responsible for making a contribution to climate change. Emissions from the industry were estimated to be 0.8 tonnes of carbon equivalent for every troy ounce of gold. Miners of gold account for 0.2 per cent of global emissions, which sounds low, but any amount of a carbon footprint is a problem. Even so, the gold mining industry has shown great progress in recognising this and limiting its impact.
In September 2019, the World Gold Council launched what it termed Responsible Gold Mining Principles (RGMPs), having consulted with member companies and stakeholders. These 51 RGMPs cover a range of essential ways miners must clean up their act, from water management, climate change to gender diversity amongst staff. Consultations took two years, with respect paid to the UN's SDGs, ensuring that the enacting of its RGMPs would actively contribute to making the SDGs a reality by their intended deadline of 2030.
A greener future for Gold
The World Gold Council launched its RGMPs with a report detailing how miners are increasingly factoring the environment into their daily work. For example, the Newmont Goldcorp Borden mine is cited as the world's first all-electric underground mine. By eliminating polluting hydrocarbons from its energy mix, this mine sets a clear precedent for how gold can now be extracted with a far lower carbon footprint than ever before. Gold buyers can increasingly seek gold products which are mined in a more sustainable way, and UK Bullion has one particular example of this.
At UK Bullion, we stock a range of Valcambi Green Gold bars produced by Valcambi Suisse, based in Balerna, Switzerland. These Green Gold bars from Valcambi are presented with a green casing and stamped with the Green Gold inscription, signifying that the bar was refined, assayed and manufactured with regard to adherence to human rights, environmental standards and policies which are supervised in a completely transparent, independent manner.
It is a seal of approval that the bars have been sourced from mines where the necessary safeguards are in place to protect the health and safety of workers as well as the surrounding environment. Each bar represents 20g of fine gold 999.9, provided with a Certificate of Authenticity. Valcambi Green Gold bars appeal to the growing number of gold buyers who are environmentally aware and keen to reward sellers and miners who put in the effort to source gold in a more sustainable way than traditional sources.
Buying gold is now greener than ever before, as miners accept the enormous responsibility to keep emissions low while continuing to use cutting edge technology to deliver high-quality gold. UK Bullion is proud to stock the likes of Valcambi's Green Gold range, as a way of giving you, the buyer, the opportunity to invest in the future of gold as a sustainably sourced precious metal.
To learn more about the Valcambi Green Gold bars we stock or any other bullion items you can buy from us, don't hesitate to get in touch today.
Copyright: zentilia