HRH Prince George of Cambridge Christening Coin
---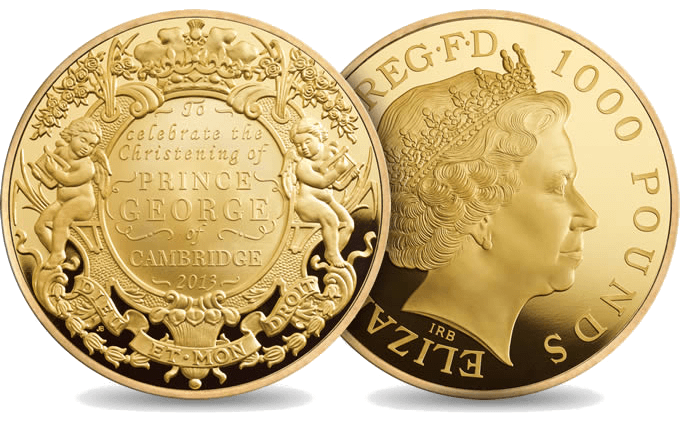 The Royal Mint is honouring the christening of His Royal Highness Prince George of Cambridge with a set of finely minted, beautiful and collectible coins.
This is the first time that such coins have been struck to commemorate a christening by the Royal Mint, and has been done with the agreement from the Royal household. This follows the release of a Silver Pistrucci St George and the Dragon coin that marked the birth of HRH Prince George.
The design of the coins has been approved by HRH The Duke and Duchess of Cambridge, Her Majesty the Queen and the Chancellor of the Exchequer. Each coin is available in two weights, 5 oz (156.295 g or 5.025 t/oz) or 1 Kg (31.151 t/oz), minted in fine 24ct Gold (up to 999.9) or Silver (999.0 fineness). Cupro-nickel (uncirculated quality), 22ct Gold (39.94 g) and other editions are available.
News and image source: The Royal Mint Coin shown: Royal Christening 2013 UK Gold Proof Kilo Coin