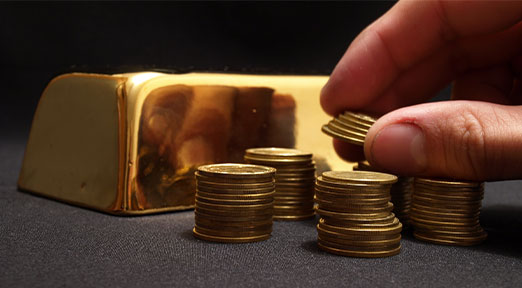 Inflation and COVID Keep Gold Buoyant
---
High inflation and a new variant of COVID-19 are the gifts no-one asked for this Christmas. High inflation concerns many, as a phenomenon which economists considered transitory has proven to be anything but. The emergence of the Omicron variant is just the latest bit of bad news to come from a disease which has been a storm cloud over the world for two years now.
You might be feeling a sense of déjà vu this Christmas, as festive celebrations are all dependent on how a new variant develops over the coming weeks. However, unlike last Christmas, there is now growing concern about how entrenched high inflation truly is. In the UK alone, CPI inflation is expected to remain elevated in the coming months, in excess of the Bank of England's two-per-cent inflation target.
The impact of a potential new tightening of restrictions combined with high inflation risks a new winter of discontent, but gold could shine as a result, offering a means of preserving wealth.
Omicron for Christmas?
Like the other variants of COVID-19, the Omicron variant's name is derived from the World Health Organisation (WHO), which names variants using letters of the Greek alphabet. The Beta variant famously forced the UK Government into 'cancelling' Christmas last year, prompting many to shun social interaction and mixing with other households as cases of COVID-19 soared. Thousands of cases are expected in the coming weeks, and restrictions may potentially be imposed to prevent them spiralling out of control.
The Omicron variant could become the dominant strain in the UK by January 2022, spreading faster than the Delta variant which has been dominant for the time being. We only need to look at the impact of locking down last Christmas to see potential economic impacts if such a move is repeated this time around. Cancelled bookings at pubs and restaurants, more retail carried out online, depriving shops of the footfall they need to stay afloat during the most important retail weeks of the year and a hit to GDP.
Markets fell on the news of a new variant, including crude oil and share prices for businesses likely to be impacted by new restrictions on travel. Gold prices, on the other hand, have remained high and stable. Since COVID-19 became a growing concern for the world two years ago, UK gold prices have risen almost 20 per cent. The perception of continued economic stress due to continual new variants could be just what helps put a floor under gold prices, while another factor, high prices, could help gold smash through the price ceiling set in the summer of 2020.
Festive inflation
One of the stories rattling markets at present is the rate of inflation remaining stubbornly higher than expected over the course of 2021. The Centre for Economics and Business Research (CEBR) estimates that rising inflation (mostly due to high energy prices) could mean families might spend an additional £1,700 on household costs in 2022. Supermarkets are believed to be freezing prices over the festive season, potentially delaying a sharp rise in costs until the new year.
Everything from commodities such as oil to food, drinks and items such as semiconductors have seen high levels of price inflation, impacting everyone from retailers to consumers. If high inflation persists into 2022, the fear is that expectations of high inflation could become entrenched. The Bank of England has already responded to the threat of high inflation, hiking interest rates from 0.10 per cent to 0.25 per cent in mid-December 20201. While it might dampen inflation, the fragile economic recovery could be snuffed out, as borrowing costs could rise and more of us become inclined to start saving more.
Gold could stand to gain in 2022, if inflation proves to be more than a passing phenomenon. In the 1970s, prices rose 2,300 per cent as economies buckled under the pressure of double-digit inflation stemming from the oil shocks and high wage demands from workers. In 2022, policy makers will have some explaining to do, if we still find high levels of inflation refusing to budge.
Going for gold in 2022
In the absence of tools to combat it, gold could be the answer. UK Bullion has an array of gold items coming into stock for the new year, which could help protect your wealth, in the event of persistently high inflation. The 2022 Gold Britannia is already in stock, depicting the Queen and Britannia, brandishing her trident and shield on either side. It is CGT-exempt and VAT-free, suitable for collectors and those with a passion for gold coins.
Not only that, but the 2022 Gold Sovereign is expected shortly from The Royal Mint, the latest in a long line of popular gold coins which we are pleased to provide to potential buyers over the year ahead.
Like a Christmas stocking, the year ahead could be full of surprises for us. It's not possible to be quite sure whether we'll get what we want, but gold could play a role in protecting your wealth in the event of any nasty surprises. To learn more about UK Bullion, and buying gold and other precious metals this Christmas, get in touch today.