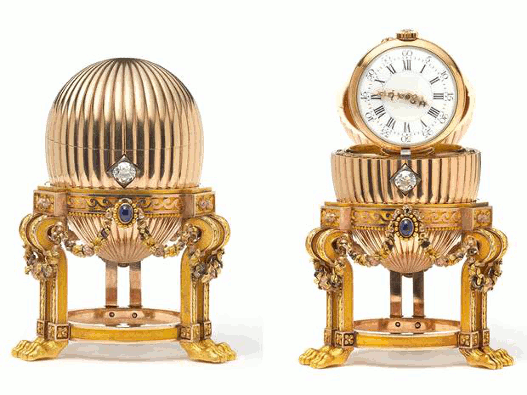 Rare Gold Fabergé Egg found in America's Mid-West
---
A lost item which once belonged to Russian Empress Maria Feodorovna has been found in America's Mid-west; it is an ultra-rare Fabergé Golden Egg decorated with diamond-encrusted ribbons of leaves and roses and three large sapphires. Inside the Egg is a Vacheron Constantin watch.
The item was purchased for $13,300 USD with the intention to melt it down for its Gold content. As the buyer was unable to get a price greater than he initially paid, it was kept. Its true value was realised when the purchaser did an Internet search for the term "egg" and "Vacheron Constantin".
The Fabregé Golden Egg was originally gifted to Empress Maria by her husband Alexander III in Easter 1887. Since its re-emergence and authentication, it has been valued at over $33m USD (approximately £20m GBP).
News source: Independent.co.uk.