What is Gold 375: How to Read Precious Metal Hallmarks
---
If you're looking to buy or sell gold, whether it's gold jewellery, gold coins or gold bars, you want to make sure you're paying a fair price for what you're buying. That's why the answer to the question 'What is gold 375' is so important, because it is part of a system that allows us to demonstrate the value of a gold product.
It's not just the live gold price that influences the value of a gold product. The weight and purity of your metal are both important aspects in determining how much it is worth too. So all genuine gold bullion products sold in the UK are 'hallmarked' with their equivalent purity, of which gold 375 is just one.
To truly understand the answer to the question 'what is gold 375', you need to understand some things about the gold market and hallmarking. Let's jump in.
A guide to gold 375
If your gold is inscribed with the '375' hallmark, it means that it is 37.5 per cent pure, or 9 karat gold for short. The remaining proportion of your product will therefore be an alloy of other metals, usually copper or zinc, which buyers don't generally have much interest in.
If your 375 gold product is a troy ounce in weight, that means you'll be entitled to about 37.5 per cent of the current trading price of gold per troy ounce. At the time of writing (April 19th 2018), the price sits at about £950 per troy ounce of fine gold, meaning your product would be worth roughly £356.25. Certain gold bullion items will trade at a slight premium to the live spot price, so you may end up paying or receiving a slightly different price.
Why do we need hallmarks?
The 375 hallmark on a product is simply a convenient way to prove its purity to potential buyers and sellers.
No gold products are ever minted to exactly 100 per cent purity. While some have come pretty close in the past, it is currently still impossible to filter out every little bit of other metal content found in gold products. So once you accept that gold products are all in some way impure, it becomes necessary to establish exactly how impure they are in comparison to each other.
In Britain, there is a legal requirement that all products that claim to include precious metals in them are independently verified by one of four 'Assay Offices' in the UK. In these offices, they are 'stamped' with their equivalent precious metal content, and some other important details.
What hallmarks are legally compulsory?
There are three hallmarks which the law requires precious metal products sold in the UK to include.
The sponsor's mark
The 'sponsor' in this instance refers to the person or entity that is originally selling the gold product here in the UK. This could be an importer, wholesaler, retailer, the manufacturer themselves or even an individual. All 'sponsors' within the UK are registered with one of the four British Assay Offices.
Purity hallmarks
This is the hallmark that'll be easiest to recognise and the most important.
The purity hallmark is the one that'll tell you how much gold, silver, platinum or palladium is in your coin, bar or jewellery, and therefore how much it is worth. You should be able to tell what it is easily, since it'll always be a three-digit number, sometimes followed by others after a decimal point.
That's because on these hallmarks, gold purity is measured in parts per thousand. To answer the question we started with – what is gold 375 – gold imprinted with the '375' hallmark would have 375 gold parts out of a total 1,000. In layman's terms, it's therefore 37.5 per cent pure, or 9 karat.
Gold investors of course will be mostly interested in the higher figures, with the various different iterations of 999 purity being the most sought after. Anything over 990 (99 per cent) can be considered 24 karat gold. Anything over 999.9 or 99.99 per cent pure gold can be considered 'fine gold'.
Most gold bars, and a number of gold bullion coins, bought and sold for investment purposes are 99.99 per cent pure gold as standard.
Here's a look at the most common purity hallmarks.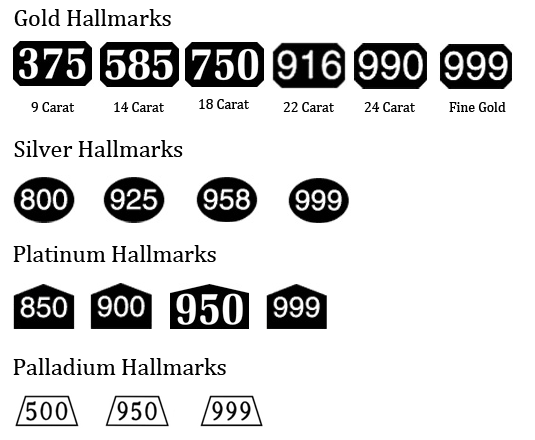 The Assay Office mark
The third compulsory hallmark you'll find on gold and other precious metal products is the mark of the Assay Office that assessed the purity. Though there are four of these here in the UK, there are a number worldwide, and your gold product won't necessarily have been assayed by one of the UK offices.
The four offices in the UK are based in London, Birmingham, Sheffield and Edinburgh.
What's the highest gold purity I can buy?
The highest purity gold ever recorded was assayed in London by the Worshipful Company of Goldsmiths, and was produced by the Perth Mint in 1957. Had that gold been available for sale, it would have been hallmarked at 999.999, or 99.9999 purity. However, this purity of gold has never been commercially released.
The highest hallmark you can currently come across would be available on Canadian Maple Leaf gold coins, some commemorative variants of which are minted to 999.99 purity. The standard coins are available in standard 999.9 fine gold.
The finest quality gold bullion products
If you, like many investors, are looking to buy a commodity that you can reap the rewards on some years down the line, you need to be able to prove how much it's worth. That's why all the gold bars and gold coins available on our website are accredited and come with all the credentials you need to be able to prove their worth in a reputable market.
Now all that's left to do it is to make your gold investment today and start watching those markets. Don't forget to keep an eye on the gold price too.