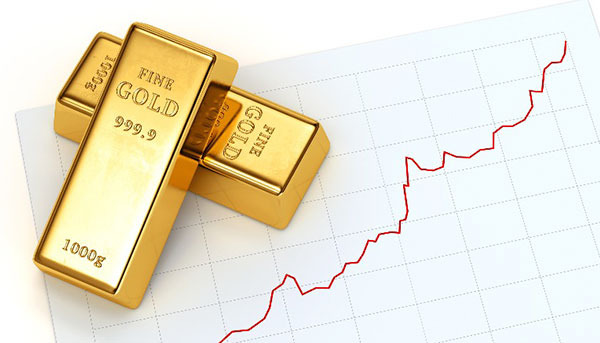 Why Is Gold at an All-Time High?
---
The gold market has always been one that attracts investors who want to diversify their portfolios. Gold is one of the less volatile options for anyone who wants to invest in precious metals, although it isn't without its risks. The market can go up and down, but it's currently seeing a strong high in the UK due to a range of factors. If you are interested in investing in gold or gold-related products, taking the time to understand what's happening in the market can help you to make the right decisions. With gold hitting a record high in recent years, it's more important than ever to understand why and what it means.
Gold Prices at a High in the UK
Gold prices have been trending high for quite a while. n early October 2022, gold reached a then all-time high priced in £GBP at over £1,529 per Troy Ounce Following a modest fall back, January 2023 has seen strong upward movement with last week's prices (January 2023) at $1,964/oz or £1,575/oz. That represents a week-on-week increase of 2.05% in GBP and the price has increased by almost 18% in the last year.
These high prices are great for anyone who already had gold investments, and even for those who might have invested in the last few years. However, is the price too high, and are people still buying gold? Should you buy gold now or is it smarter to wait until prices have dropped?
Which Factors Are Driving the Gold Market
So what exactly is driving the high price of gold in the current market? There are several factors that have been affecting the price of gold. One is the Russian invasion of Ukraine, which drove people to choose gold as a safe investment. The price of gold did see a decline in 2022 due to the US central bank raising interest rates and was also affected by China's zero-Covid policy. However, prices are looking up again for 2023 and some are predicting that gold prices could reach $3,000 this year. Strong central bank demand, as well as demand from jewellers and collections of coins and bullion, could drive prices.
Things to Consider in 2023
In 2023, there are some key things to think about if you are looking at the gold forecast and investing in the gold market. A number of price trend drivers could lead gold to keep increasing in price, spelling good news for many investors.
But should you invest in gold this year? Is it time to sell if you're already an investor? Gold is often viewed as a safe-haven investment and it can be a good way to diversify your investment portfolio. Although there are some uncertainties affecting the price of gold this year, it could still be a sound investment for those wishing to combat the rate of inflation. Gold can be a reliable investment even during turbulent times.
Gold has been generally increasing in value over the last couple of years, even with some declines.