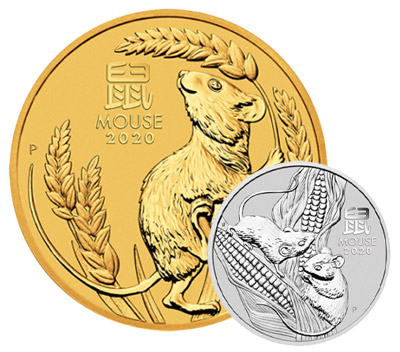 Gold Takes a Breather but Year of the Mouse Awaits
---
According to an old myth, (depending on where it is told), the Jade Emperor or Buddha himself called an assortment of animals for a great meeting, once upon a time.
The Pig, in his laziness, fell asleep along the way and arrived late to the meeting. His laziness led to his eventual christening as the 12th and final animal of the zodiac.
In contrast, the Mouse was honoured as the first animal of the zodiac, and always kick-starts a new 12-year long zodiac cycle. February 2020 serves as a return to the Year of the Mouse, with an animal deemed to be quick-witted, resourceful and smart.
As we approach the Year of the Mouse in early 2020, it might be time to be as quick-witted, and consider investing in gold, even as it shows signs of a post-election slumber.
Quick-witted like the Mouse
The past year has been one of great highs and lows. The price of gold started off, by continuing to consolidate as the March Brexit deadline approached.
Gold prices then took off and soared in the summer, reaching a high of £1,275 per troy ounce. Investors cheered at the yellow metal's seemingly unstoppable rise, but as recent months have shown, gold has started to take on some of the characteristics of this current year's zodiac animal, the Pig.
Prices have failed to sustain their summertime peak, and it's easy to assume it has done as the Pig did, and, metaphorically speaking, fallen fast asleep. You might start to wonder whether this apparent gold price slumber is something temporary or part of a greater trend.
Following on from this month's snap election, the Conservatives returned to power with a majority of seats, and gold has drifted lower, flirting with the £1,100 price level. This may seem like an ideal time to sell gold, but actually, it could be precisely the moment to start accumulating, as we enter into the new decade and a new era entirely.
Don't get left behind in 2020
The last four years have taught us that politics is much like the weather – some events are once-in-a-lifetime or once every century, and then suddenly everything happens all at once. This makes for volatile markets. While gold might seem to be in a deep sleep, during the final months of the Year of the Pig, this could be just a brief respite, before prices explode even higher.
Solid election victories often result in honeymoon periods for any incoming governments, but this doesn't mean that things will stay 'strong and stable' forever. In fact, the third election victory won by Labour in 2005 came just three years before one of the greatest financial crashes of the last century. It goes to show that political stability can often mask economic vulnerability.
Investors will see gold prices dipping lower this Christmas, but this doesn't mean it's the end of the road for gold – far from it. Brexit is likely to come to pass in January, but a substantial period of intense trade negotiations will be required for the duration of 2020, meaning that leaving the EU is just the beginning of a far longer process.
As investors will have seen from the adverse market reaction seen from any negative news surrounding the US/China trade war, an unexpected shock regarding trade negotiations following Brexit in 2020 could set the stage for a great price rally for precious metals. Gold could be at the crest of this wave, with quick-witted gold investors gaining, even while the markets tumble, in the event of a negative shock to the markets.
Ideal investments for the Year of the Mouse
UK Bullion is pleased to unveil a variety of gold and silver coins, catering to those with a particular interest in the Year of the Mouse, with our Year of the Mouse Lunar Coin series.
Our 2020 Year of the Mouse Gold Coin comes in a variety of weights, from a tenth of an ounce to as much as a full ounce, with the smaller varieties showing particularly strong demand, as we approach the new zodiac year.
The 1oz 2020 Year of the Mouse Gold Coin, worth £1,183.75, features an engraving of the cunning mouse itself crawling up a stem of wheat, with an engraving of Her Majesty Queen Elizabeth II on the obverse side.
For those seeking to diversify their portfolio in the coming year, we also offer a Silver Year of the Mouse Coin, minted to show two mice amid husks of corn. From just £24.91 per troy ounce, this coin is a suitable alternative to gold, if you're looking for something a little bit different.
Gold – resourceful and tangible
For those considering investing in precious metals in the coming year, gold is by far the most tangible of all. Gold remains highly-valued, after centuries as a reliable store of wealth, and has provided sanctuary for investors in more recent turbulence, as markets have been tangled up in Brexit and trade fears.
Gold serves as a canary in the coalmine, offering investors with a diverse portfolio a key indicator of where the markets could be heading. Gold often bottoms out and enjoys sustained rallies in the months preceding great turbulence, particularly in the stock market. Get some 2020 vision, and consider buying gold today, to add to your portfolio.
See how this centuries-old store of wealth can carry you forward and lead the way, as we enter into the Year of the Mouse in 2020.