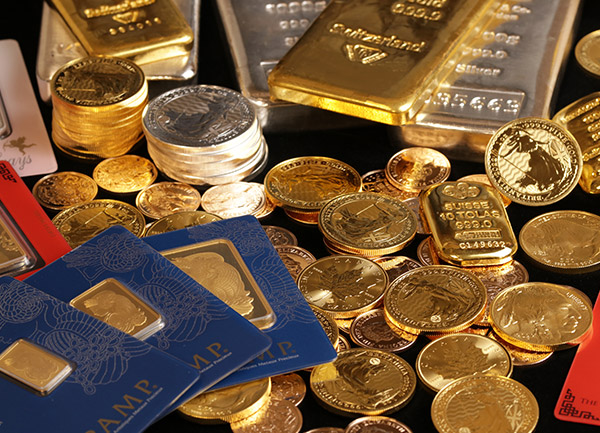 How to buy gold in the UK
---
Gold is an excellent investment, particularly during times of political or economic instability. It's no secret that the stock market and other financial markets are in a precarious place right now, which has led you to consider buying gold. You can achieve portfolio diversification, but do you know how to buy gold?
There's more to consider than you initially expect, which is why we've created this guide on how to invest in gold for beginners.
What is the best way to buy gold?
Effectively, you have two different approaches when purchasing gold:
Physical gold
Electronic gold
Starting with the second option includes things called ETFs – or exchange-traded funds. Here, you are basically investing in gold via the stock market. You don't own any gold, but you can still benefit from its value. This is a popular method of buying gold, but it is probably the worst out there. With an ETF, you have fees to manage the fund and there are more risks related to the stock market. One of the main reasons to invest in gold is to diversify your portfolio and protect your money against things like a stock market crash. You don't receive this benefit if you have a gold ETF.
Instead, buying physical gold is always the better idea. With this method, you will normally have three different types of physical cold you can purchase:
Gold bullion bars
Gold coins
Gold jewellery
Each of these options comes with its own pros and cons…
Gold Bullion Bars
Gold bars are what most people think of when they're gearing up to invest in physical gold. As the name suggests, these are literally bars of gold. They tend to be the purist type of gold out there, which makes them highly valuable. Plus, you have more sizes to choose from, with some gold bars starting out at as little as 1g and going up to 1kg.
Bars also have lower premiums, which is the additional cost charged on top of the price of gold. It usually relates to things like manufacturing, and bars have a much lower manufacturing cost than coins. As such, it could be cheaper to buy 1kg of gold bars than 1kg of gold coins.
Gold Coins
Sometimes called gold bullion coins, these products are an interesting way to make gold investments. Both coins and bars are exempt from VAT in the UK. However, certain UK coins are also exempt from
Capital Gains Tax (CGT). This means they are classed as legal tender, so you won't have to pay tax on your gains.
So, while it might be more expensive to buy coins over bars, they do have this extra tax benefit. There's also the idea that some coins have historical value or rarity attached to them, which might make their value go up. Of course, this is a bit of a risk – you might get lucky and buy a coin that triples in value over the years because of its rarity, or you might not.
Gold Jewellery
Of the three types of physical gold, jewellery is the least viable. It isn't as pure as gold bars or coins and doesn't really have anything else that can improve its value. For the most part, it's not a smart idea to buy lots of gold jewellery as an investment.
However, you have the option to sell some of your old gold jewellery for cash as a quick way to make money. From here, you can use that money to invest in bars or coins should you wish!
One of the overall benefits of buying physical gold is that you own it. This gives you complete and utter control over your investment. There's also the tax exemption factor, which makes investment gold more affordable as you save on VAT, while some British gold coins don't have to be subjected to CGT.
Where do you buy gold?
How do you buy physical gold?
Thankfully, it is incredibly easy to do this nowadays. All you have to do is head online and find a reputable gold bullion supplier. At UK Bullion, we sell gold bars and coins for investors to purchase. Simply find what you need, select the quantity, and make a purchase. The gold will be delivered to you, upon which you decide where to store it – ensure it is kept in a safe place at all times.
We also offer our own secure vaulted storage option, meaning you can keep your gold locked away in an insured vault for a small additional fee.
There you have it, that's how to buy gold in the UK. It is a very straightforward process once you understand what type of gold to buy. Bars and coins are the best investments you can make, just ensure that you have a safe place to store your investments until you're ready to sell them.