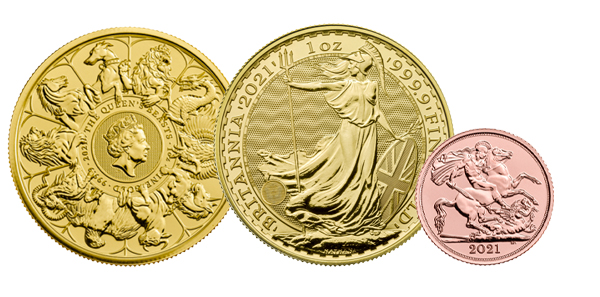 Invest in Royal Mint Bullion Coins and Save Tax
---
The Royal Mint recently produced a commemorative coin marking the end of the Queen's Beasts coins collection. The gold coin, weighing 10kg, has a legal tender value of £10,000 and has already been sold for a six-figure price to a private buyer.
This coin was the largest ever made in The Royal Mint's 1,100-year history. After being cast, engraving machines etched the coin's patterns, and then master craftsmen finished the design. Finally, the coin was laser-frosted, adding texture to the surface. It took a total of 400 hours, including four days of polishing, to make the coin.
The inspiration for the Queen's Beast series came from the Queen's route to Westminster Abbey on her coronation in 1953. Along the route, she passed 10 heraldic statues: the Lion of England, the White Greyhound of Richmond, the Yale of Beaufort, the Red Dragon of Wales, the White Horse of Hanover, the White Lion of Mortimer, the Unicorn of Scotland, the Griffin of Edward III, the Black Bull of Clarence, and the Falcon of the Plantagenets.
The coin collection started in 2017 with the Lion of England, and it has detailed the history and symbolism behind each creature. The final coin unites all the creatures together in one unique design.
Invest in the Queen's Beasts Completer Coin
Now you can invest in your own Queen's Beasts Completer Coin. We currently have in stock the 2021 UK Queen's Beasts 1oz gold coin, the final release of the popular Royal Mint collection.
The unique design brings together each of the individual 'beasts' featured in the previous designs of The Royal Mint collection, functioning as a capstone, and unifying them in this final release.
Featuring the fifth portrait of Queen Elizabeth II with the new guilloché design, the 1oz gold coin has a legal tender value of £100. The coin was designed by the famous Jody Clark, who also designed the latest portrait of Queen Elizabeth II to feature on the pound sterling coins.
Many people collect the Queen's Beasts coins due to them being a limited collection, with many coins quickly selling out. The coins are available in pure gold (999.9) and make good investments.
Due to the Queen's Beasts being legal tender and being pure gold, they are VAT-free and CGT-free. This allows you to make significant savings compared to buying gold coins from foreign markets. Take a look at our current range of Royal Mint gold, which includes the Queen's Beasts.
Our Royal Mint Bullion
We offer a whole range of Royal Mint bullion. Coins from the Queen's Beasts collection, as well as Sovereigns, Half Sovereigns, gold and silver Britannias, and complete gold coin sets. We also stock a range of old bullion coins, such as our 1893–1901 gold Half Sovereigns and 1911–1932 gold Sovereigns.
Interested in buying in bulk? We sell bundles and monster boxes of silver Britannias. If you invest in our silver Britannia monster box, which is stored in an LBMA vault, then not only will it be CGT-free but also VAT-free.
Why Invest in Royal Mint Bullion?
There are few if any mints as famous as The Royal Mint. After Monnaie de Paris, it is the second oldest continuously running mint in the world, operating since AD 886.
For 1200 years, the mint has provided the national coinage for the United Kingdom and overseas British territories. Over the centuries, Royal Mint coins have reached far and wide serving as national currencies and vehicles of investment.
The Royal Mint makes some of the most prestigious bullion in the world. In addition to the high gold and silver purity, having bullion made by such a famous mint only adds to the future value of your bullion.
Cost Savings
Depending on where gold is bought, taxes may be added upon purchase and upon sale of the item. However, The Royal Mint's gold is not subject to VAT and some of their coins are free from CGT.
Our gold Royal Mint coins are free from VAT, including:
Gold Britannia coins

Sovereigns

Gold Queen's Beasts coins
Normally, silver coins and bars are subject to VAT. However, our Royal Mint monster boxes that are kept in an LBMA vault are VAT-free:
Silver Britannia monster boxes
All Royal Mint coins that are legal tender are also free from CGT, including:
Sovereigns

Gold and Silver Britannia coins

Gold and Silver Queen's Beasts coins
What's the difference between VAT and CGT?
In the UK, VAT is a tax paid when purchasing an item. As of May 2021, the UK tax rate is 20%. This means that if a 5kg silver bar is priced at £3500, the total cost will be £4,200. But you could save yourself 20% in tax if you buy one of our Royal Mint silver monster boxes that are kept in an LBMA vault.
Capital Gains Tax (CGT) is a tax paid on profits at the time of sale. For example, if you bought a coin for £500 and sold it for £750, then CGT would be based on the £250 of profit. However, you do not have to pay CGT if you are within your annual tax-free allowance, and you do not have to pay CGT when selling our Royal Mint legal tender coins.
Compared to foreign bullion coins, investing in our Royal Mint coins can help you to lock in profits right away, saving you tax costs when buying and then saving you tax costs when selling.
We sell a range of bullion coins and bars at the best market prices. From 1/10 oz coins to kilo bars, we have something to suit all budgets and investment goals.