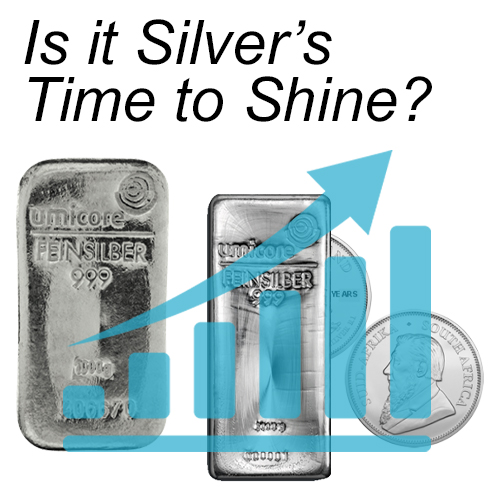 Is it Silver's Time to Shine?
---
Silver has long been seen as the less lucrative little brother to gold in the precious metals market. Gold has been close to all-time highs regularly over the last few years, as it has always been considered a reliable store of wealth in times of economic turbulence.
Meanwhile silver prices are hovering around 65 per cent below the highest price ever registered of $48.70 (£38.56) per troy ounce in 1980 and 2011.
So, what are the signs that the silver market is due a price explosion? In this article we'll explore the ever building indicators that the silver price is about to skyrocket and shoot for the moon, and explain how you can maximise you returns with our VAT-free silver.
A bullish forecast for silver prices
The price of silver could be about to begin a historic bull run which might turn into more of a marathon, meaning now could be the ideal time to buy the white metal.
The last bull run was in 2011, and it seems that silver is overdue another. So what are the signs that point to a momentous rise for silver being on the horizon?
Firstly, huge physical quantities of silver have been purchased and deposited into silver exchange-traded funds (ETFs) recently. This activity has been led by SLV, the world's largest ETF who have been buying up silver at an unprecedented and alarming rate.
Some 220 million oz of silver have been deposited into the investment vehicles mentioned above in the past few months. That's more physical silver being placed in investment vehicles in a matter of months than has been deposited at any other time in history.
An understanding of how the markets work leads one to think that a huge increase in the amount of physical silver being bought at one time would see prices rise, due to buying activity making the precious metal scarcer.
But right now silver prices don't seem to be responding, at least not as quickly as might be expected. Prices have increased from the lows seen in March where silver prices plummeted to an 11-year low of $11.772 per troy ounce, as of July 16th silver has recovered to $19.21, but is still 65 per cent lower than all-time highs.
It's common sense that a huge increase in physical silver being bought would lead to a sharp rise in prices, potentially the sharpest in history.
Signs are pointing to it happening soon. The fact that the silver price has not risen in line with the increases in the amount of physical silver bought, could be an indication that when the rise in price does occur it will be sharper as a result of the non-movement we're seeing now.
Additionally, the Silver Institute, famously reticent to offer its price predictions on silver, have called for a price rise to the precious metal given the surge in investment activity. 
Finally, we can't ignore the fact that it appears that silver is undervalued relative to gold. The gold:silver ratio, the amount of silver ounces needed to purchase an ounce of gold, fell from a high of 127 not seen for decades to 97.8 in June. This is still a high mark historically, but it remains subject to change.
Buy VAT-free silver
One of the biggest differences between gold and silver, apart from the price, is that silver investments are subject to VAT in the UK.
This means investors have to factor in 20 per cent on top of the price paid for silver, before they even begin to see a return. As a result, many investors interested in purchasing physical precious metals will quickly turn to VAT-free gold bullion as an alternative. However, with UK Bullion it is possible to buy VAT-free silver.
We are able to offer VAT-free silver with six months free storage. Through our purchase and storage system you can purchase 1Kg silver bars and Silver Britannia coins without needing to pay VAT. 
When you buy silver it will be stored in a state of the art, purpose-built, fully insured vault in the UAE. As long as your silver remains in the vault it won't be subject to VAT, until you decide to have it delivered to the UK.
Using our online storage system you can monitor the value of your bullion and request that we sell or deliver your items to you. You'll be able to keep a close eye on your silver's value, monitoring it in real time. If you so choose, when the time is right for you, you can sell your silver to us. Alternatively, you can collect your silver from the vault in the UAE, or request a secure delivery. 
Terms and conditions apply if you would like to collect your silver yourself or receive delivery at an address of your choice.
Plus, if you purchase five kilos or more of VAT-free silver storage products, we can even offer you free storage for six months.
Act now before silver prices rise
With silver prices looking likely to rise to unprecedented all-time highs, now could be the opportune time to act for the savvy precious metals investors. Act now before silver prices rise, and you could be looking at a potential windfall. 
There is a lot of excited speculation from trusted silver commentators about the expected bull run, and if the forecasts are accurate silver investors could have their day in the sun.