Bullion Coins – The British Britannia
---
Brief History
Britannia has been a prominent figure on British coinage for more than 300 years. More so, during times when Great Britain was governed by the Roman Empire. She first appeared on the reverse of bronze Farthing coins throughout the reign of King Charles II in 1672, as a symbol of Britain's naval superiority. By 1952, she featured extensively on copper and bronze pennies of every monarch up until decimalisation. Today, she still appears on the reverse of the 50 pence coin, Silver and Gold bullion coins.
The Royal Mint initially began production of Gold Britannia's in 1987, with a face value of £100. These new Gold coins were minted from 22 carat Gold, just as The Sovereign has been for generations. Britannia coins of this decade tend to weigh 34.0500 grams and contain 1 Troy ounce or 31.104 grams of pure gold content. Many investors still consider them to be among the world's most beautiful coins and distinctly British.
In 1997, a silver version was put into circulation carrying a face value of £5. Originally minted from silver of .958 purity from 1997 to 2013, The Royal Mint now produce them in .999 silver. In common with her sister gold coin, Silver Britannia's feature a portrait of Her Majesty Queen Elizabeth II on the obverse and a depiction of Britannia on the reverse.
Properties
2017 Gold Britannia's feature the 5th definitive coinage portrait of Her Majesty The Queen by Royal Mint coin designer Jody Clark. On the reverse, the recognisable Britannia by sculptor Philip Nathan, with a new radial sunburst design. Gold Britannia coins are legal tender and benefit from legal protection against counterfeiting due to this status. Not only that but every coin is Capital Gains Tax Free.


During the manufacturing process these coins are struck on both sides with special dies, which require expert craftsmanship to maintain. In addition, Bullion-grade Britannia's are commonly given milled edges where 'Privy Mark' Britannia's have a smooth edge finish. A snake was given exclusively to the 2013 silver Lunar Britannia in honour of the Chinese New Year.
Gold Britannia Coins are available in four weights from one ounce, half ounce, quarter ounce and tenth ounce. The table below outlines the technical specifications of all the sizes.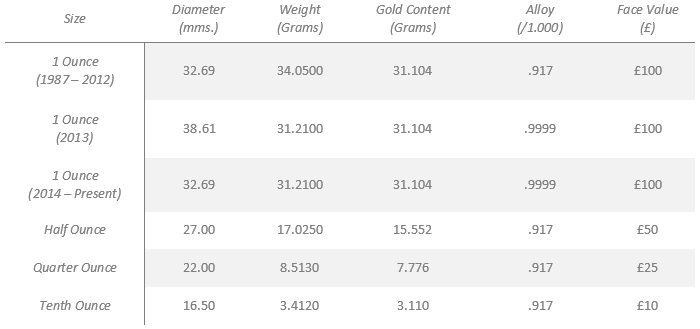 View our range of Britannia Gold & Silver coins on our website by clicking here