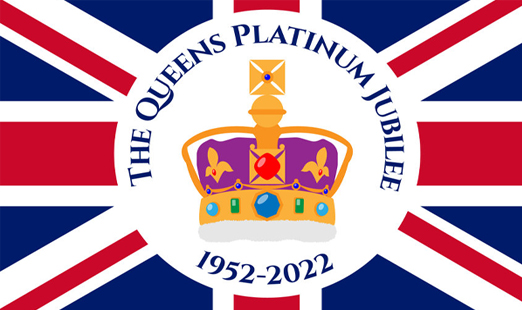 Why Not Celebrate Queen Elizabeth II's Platinum Jubilee with a Commemorative 2022 Sovereign
---
The Royal Mint has released its largest ever coin collection in honour of Queen Elizabeth's Platinum Jubilee and her 70-year reign, the first British monarch to reach this historic milestone.
With a history stretching back 1,100 years, The Royal Mint is the most prestigious export mint in the world and has struck every UK coin in circulation since the Queen's coronation in 1952.
Coins celebrating the jubilee include the 2022 1oz Gold Britannia coin, more on this below.
A royal tradition
The Royal Mint has depicted Britannia on coins during the reign of every monarch since Charles II. Appearing in her many guises since Roman times, Britannia is an enduring symbol of strength and progress. Britannia's likeness has featured on coins for 350 years.
At UK Bullion, we are official partners of The Royal Mint and are proud to be associated with one the most renowned mints in the world today. This gives us the ability to offer investors the chance to buy stunning items such as Gold Sovereigns and Gold Britannia coins, which the Mint supplies directly to us.
Our regal collection
We have a diverse range of Gold Sovereigns and Britannias available for purchase. But first things first; if you're new to gold coins, you might be asking "What is a gold sovereign?".
A sovereign is a UK gold coin. Struck since 1817, they have a nominal value – this is the value of the coin when it was issued and doesn't correspond to its market value. The sovereign was initially a circulating form of currency accepted as legal tender in the UK and overseas. Now it is a bullion coin purchased to diversify investment portfolios and has also been known to have been mounted in jewellery.
We offer a wide range of Royal Mint bullion in stock, including Sovereigns, Half Sovereigns, gold and silver Britannias, and complete gold coin sets.
Or consider our range of old bullion coins, such as the 1893–1901 Gold Half Sovereigns featuring Queen Victoria and 1911–1932 Gold Sovereigns featuring King George V.
Sovereigns typically feature the traditional George and the Dragon design, although there have been various departures that have been notable in recent years. In 2012, a new design was created to mark the Diamond Jubilee and in 2005 a modern design was released. 2017 featured a coin bearing a special privy mark to commemorate 200 years of 'modern' Sovereign production.
Precious metal lovers might appreciate our notable platinum items. These include 1/10oz Platinum Britannia Coins (limited stock available) and 1oz Platinum Britannia Coins minted in Platinum. We also have stock of 1g Fortuna Platinum Bars and 5g Fortuna Platinum Bars featuring the Lady Fortuna design on the reverse, the very same precious metal that the jubilee shares its name with.
2022 Royal Sovereign
The 2022 Gold Full Sovereign, is minted in the UK in 22 carat gold by The Royal Mint. It showcases a rare and exciting change to the reverse of the coin, by artist Timothy Noad. To commemorate the Platinum Jubilee, he has offered a new interpretation of the Royal Coat of Arms with intricate details making up the lion and unicorn. The 2022 mintage is also available in a Gold Half Sovereign Coin and a Gold Double Sovereign coin.
Buy the 2022 Royal Sovereign from UK Bullion:
FREE and fully insured, safe UK delivery
Capital Gains Tax exempt
VAT free
Secure storage option available
Historic and collectible
These coins are expected to be highly appealing to collectors due to the once-in-a-lifetime nature of the Platinum Jubilee, also the fresh design is highly appealing to collectors, increasing the potential value for investors. And because the coin is legal tender it is Capital Gains Tax and VAT free.
There are a variety of purchase options available. 2022 Gold Sovereign coins can be purchased as one off items, in official Royal Mint tubes of 25, or 'monster' 500 coin boxes.
Sovereigns make wonderful gifts and can be packaged in gift boxes, in a blister, or premium walnut display box, giving you more opportunities to admire this fabulous coin.
2022 Gold Britannia
Available in weights of 1/10oz, 1/4oz, 1/2oz and 1oz, the 2022 Gold Britannia mintage maintains the recent secure reverse design for the Platinum Jubilee. Manufactured by The Royal Mint, the coins reach the fineness level of 999.9.
The coins share the same basic design as the 2021 coins, displaying Philip Nathan's Britannia and a portrait of Queen Elizabeth II by renowned coin artist Jody Clarke, who also designed the Queens Beast Unicorn and Lion coins.
Buy the 2022 Gold Britannia from UK Bullion:
FREE and fully insured, safe UK delivery
Capital Gains Tax exempt
VAT free
Secure storage option available
Historic and collectible
FREE and fully insured, safe UK delivery
Wave illusion – intricate details behind Britannia give the illusion that waves are flowing when the coin is moved.
Tincture lines – give the suggestion of coloured lines and patterns on the coin's surface.
Latent image – in the way a holographic effect is given, a small circular image depicts a padlock or trident depending on the angle it is viewed at
Micro-engraving – laser technology creates micro lettering on the coin face, this cannot be replicated by over minting methods
With the security features for the 2022 mintage, you can be sure your coin is authentic, rather than a convincing replica as the above security features would be prohibitively expensive and difficult to copy.
Commemorate HRM's Jubilee with collectible coins
At UK Bullion we have many gold coins and bullion bars associated with the Royal family. We are here to serve first time and seasoned investors. So, whether you know exactly what you are looking for, or would like some guidance, we're here to help.
Please contact us today with any questions about buying gold. We're always happy to talk through the options with collectors and investors.