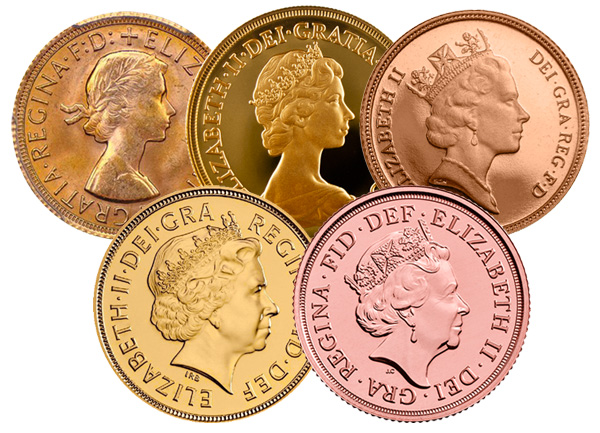 New King Charles III General Circulation Coin Set to Enter Circulation Within Weeks – What's Next for Investment Coins?
---
The question of when King Charles III's image will replace that of his mother Queen Elizabeth II on currency, has been discussed by the public and wider gold markets for weeks. A
BBC article, published 30th September, has revealed the transition is well underway with 50 pence general circulation coins featuring the new monarch's portrait set to enter general circulation "within weeks". The official portrait was designed by British sculptor Martin Jennings.
Throughout most of our lifetimes, the entirety of legal tender coins in circulation and the majority of investment coins have featured Queen Elizabeth II's image. Since Her Majesty succeeded her father King George VI to the throne 70 years ago, Elizabeth II's visage has been omnipresent on British currency and the currencies of various commonwealth countries.
In this article, we look forward to the upcoming developments for British currency and investment coins, examining historical precedent and using our industry knowledge to inform investors about the opportunities in the gold market in the coming months and years.
New King Charles III 50p coin design revealed
A new 50p and a commemorative £5 crown coin have been revealed by the BBC which was given the exclusive first glimpse of the coins. The 50p coin will enter circulation within weeks featuring a design by British sculptor Martin Jennings.
Centuries of tradition dictate that King Charles faces to the left, following a pattern where the new monarch faces the opposite direction to their predecessor. Again, in a move with precedent, as a British King, Charles III is shown without a crown.
How quickly will currency featuring Queen Elizabeth II be replaced?
Based on previous transitions and some revealing statements by the Royal Mint we have already learned a few details.
First some context. During her incredible 70-year reign Queen Elizabeth II was sovereign leader to 15 nations, while serving as head of the Commonwealth to more than 50 others. Her image appears on the currency of more than 20 countries around the world, with 29 million coins and 4.7 million banknotes bearing a portrait of her image in the UK alone.
While this article will mainly focus on UK currency and investment coins, it is clear that replacing the Queen's image on currency throughout the world will be a massive undertaking with varying timelines.
Following royal tradition, the image of King Charles III will adorn British currency during his reign, but how long will this take, will the Queen still feature on new currency, and will current currency remain legal tender?
In all likelihood it will take several years to replace all coins and notes bearing the portrait of Queen Elizabeth II with King Charles III worldwide. In the UK, the Royal Mint and Bank of England have confirmed that current coins and notes with Queen Elizabeth II's image will remain legal tender for the time being.
Indeed, the Royal Mint has also announced that currency featuring King Charles III and Queen Elizabeth II will co-circulate, confirming that this will ensure a "smooth transition, with minimal environmental impact and cost". The Royal Mint's Chief Executive Anne Jessop has stated that coins generally last 20 years in circulation, so both King Charles III and Queen Elizabeth II coins could co-circulate for many years to come.
From the start of 2023, expect general circulation coins from 1p to £2 to be minted and in circulation featuring King Charles III's image. Also, new banknotes are expected by mid-2024 – £5, £10, £20, and £50 notes featuring the King's portrait will appear using the existing designs.
The future of investment coins
The most popular and enduring investment coins featuring Queen Elizabeth II's portrait are gold Sovereigns and gold and silver Britannias. While it is difficult to predict the impact of the Queen's passing on the value of investment coins, it is likely that a strong surge of investor and collector demand will be evident. A currency transition of this magnitude hasn't been seen for more than 70 years since the accession of the Queen to the throne following her father, King George VI.
During Queen Elizabeth II's reign, five official portraits were used:
The First Definitive Coinage Portrait – 1953 – Mary Gillick
The Second Definitive Coinage Portrait -1968 – Arnold Machin RA
The Third Definitive Coinage Portrait – 1985 – Raphael Maklouf
The Fourth Definitive Coinage Portrait – 1998 – Ian Rank Broadley FRBS
The Fifth Definitive Coinage Portrait – 2015 – Jody Clark
So, what will happen to the planned 2023 release of various investment coins?
Gold Britannias
Gold and silver Britannias are usually minted and ready to release by October before the upcoming year. The Royal Mint has now stopped minting 2022 Britannias and following consultation with The Treasury, 2023 dated gold and silver Britannias that have already been manufactured bearing Queen Elizabeth's portrait will be released in October. As The Royal Mint doesn't produce their own coin blanks, they are unlikely to have had a large enough store of blanks to be able to melt down and reissue these coins with King Charles III's portrait and we anticipate that, over time, 2023 Britannias featuring King Charles III will also become available.
We will of course keep you updated about all upcoming investment coins including Gold Britannias.
*Note: Did you know the Britannia is probably the most secure bullion coin in the world?
Gold Sovereigns
New mintage Gold Sovereigns are generally released in January. This means that a production run for 2023 gold Sovereigns featuring Queen Elizabeth II will not have been started as of today, allowing for the portrait on the coins to be changed. For this reason, we anticipate that 2023 gold Sovereigns will feature the new portrait of King Charles III by Martin Jennings. While this remains unconfirmed, The Royal Mint has stated they will continue minting 2022 Sovereigns bearing the image of Queen Elizabeth II until November 2022.
Due to the availability of these bullion coins, they will also be attractive to those looking to possess a keepsake marking the Queen's passing, rather than being considered highly collectible items.
However, proof sets minted to a higher standard with a mirror finish would be viewed as more attractive as collectibles.
Tudor Beasts Collection
The 2023 Tudor Beasts Yale of Beaufort coin in silver and gold is currently available featuring the fifth portrait of Her Majesty Queen Elizabeth II on the obverse. The release of this, the second coin in the new Tudor Beasts series, also set a precedent for other 2023 investment coins, including the Gold Britannia, being released with the portrait of Queen Elizabeth II.
Prepare your portfolio for a historic 2023
2023 looks set to be a historic year for both investors and collectors alike. Are you a seasoned investor looking to reinforce your portfolio with the newest gold Sovereign or Britannia? Maybe you're a collector looking to mark history by honouring Queen Elizabeth II and King Charles III? Or are you a first-time investor looking for guidance? Whatever the case, the UK Bullion team is here to answer any questions you might have and to offer you support.
Why not give our dedicated team a call on 01902 623 256, or contact us by email. Alternatively, you may book an appointment to visit us in our head office in Wolverhampton.