Free Fully Insured Delivery

Bank Holiday Weekend
Our offices will be closed for the Bank Holiday on Monday 27th May. Any orders placed after 2pm on Friday 24th will be processed on Tuesday 28th. Our website will remain open for business.
Royal Australian Mint Lunar Coins
Royal Australian Mint Lunar Coins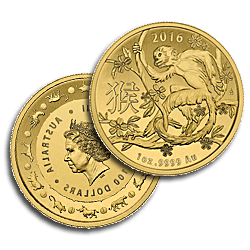 Brand New Range
Starting with the 2016 Lunar Monkey Gold Coin, we have a fantastic new range here from the Royal Australian Mint that is set to compete directly with the Perth Mint Gold Coins and doing a grand job of it.
This coin is beautifully designed and sets a promising precedent for future coins in the range that we all hope to see.