Free Fully Insured Delivery *

Royal Australian Mint Lunar Coins
Royal Australian Mint Lunar Coins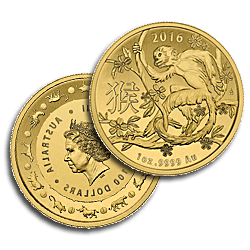 Brand New Range
Starting with the 2016 Lunar Monkey Gold Coin, we have a fantastic new range here from the Royal Australian Mint that is set to compete directly with the Perth Mint Gold Coins and doing a grand job of it.
This coin is beautifully designed and sets a promising precedent for future coins in the range that we all hope to see.
There are no products matching the selection.