Free Fully Insured Delivery *

Call us on 0800 090 3256
Australia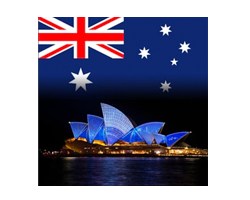 Australia is the second largest gold producer in the world (China first) with 75% of it mined in the Western Australia State. Gold is one of Australia's largest export earners and 5.6% of its GNP. Gold booms or rushes have encouraged immigration to Australia. Australia is also home to The Perth Mint.
• Originally a branch of the British Royal Mint, the Perth Mint went under Australian ownership in 1970 and is a member of the LBMA. The mint takes great delight in reproducing the wonders of "Down Under". The kangaroo gold or silver coins and the koala bear silver coins are prime examples. The kangaroo gold coin was so successful a "one ton" gold version of it was minted in celebration.
• In 1851 Australia's population was 437,655 and by 1861 it had rose to 1,151,947. The Victorian goldfields may have been exhausted but enough financial resources were left to explore possible sites. This exploration discovered Australia had a wealth of resources and minerals, let alone gold. Today most mines are situated in remote areas where workers will usually stay at the facility for the week and fly home for the weekend.
2021 1oz Silver Kangaroo | Perth Mint

Stock Notification System

For New Stock Email

2022 1oz Silver Koala Coin | Perth Mint

Free Insured Delivery
£/g to £/g Over Spot

2022 1oz Silver Kookaburra I Perth Mint

Free Insured Delivery
£/g to £/g Over Spot

2021 1oz Silver Koala Coin | Perth Mint

Free Insured Delivery
£/g to £/g Over Spot

2021 1oz Silver Lunar III Ox Coin | Perth Mint

Free Insured Delivery
£/g Over Spot

2022 1oz Dragon Rectangular Silver Coin | Perth Mint

Free Insured Delivery
£/g to £/g Over Spot

1g Gold Bar | Black Certicard | Perth Mint

Free Insured Delivery


2020 Gold Coin | James Bond 007

Free Insured Delivery


2016 1/10oz Gold Lunar Monkey - Perth Mint (Australia)

Free Insured Delivery


2022 1/10oz Gold Kangaroo Coin | Perth Mint

Free Insured Delivery


5g Gold Bar | Black Certicard | Perth Mint

Free Insured Delivery


Mixed Years 1/4oz Gold Kangaroo or Nugget Coin | Perth Mint

Free Insured Delivery


2022 1/4oz Gold Kangaroo Coin | Perth Mint

Free Insured Delivery


2022 1/4oz Lunar III Tiger Gold Coin | Perth Mint

Free Insured Delivery


2021 1/4oz Gold Kangaroo | The Perth Mint

Free Insured Delivery


2021 1/4oz Gold Lunar III Ox Coin | The Perth Mint

Free Insured Delivery


2020 1/4oz Gold Kangaroo | Perth Mint

Free Insured Delivery


25 x 1oz Silver Kangaroo Coins In Tube | Perth Mint

Stock Notification System

For New Stock Email

10g Gold Bar | Black Certicard | Perth Mint

Free Insured Delivery


1870 Australian Gold Full Sovereign

Free Insured Delivery


Tube of 20x 2022 1oz Dragon Rectangular Silver Coins

Free Insured Delivery
£/g to £/g Over Spot

2021 1/2oz Gold Kangaroo Coin | Perth Mint

Free Insured Delivery


1/2oz Gold Kangaroo Coin | Mixed Years - Perth Mint (Australia)

Free Insured Delivery


2021 1/2oz Lunar III Ox Gold Coin (Australia)

Free Insured Delivery


2022 1/2oz Lunar III Tiger Gold Coin | Perth Mint

Free Insured Delivery


2022 1/2oz Gold Kangaroo Coin | Perth Mint

Free Insured Delivery


20g Gold Bar | Black Certicard | Perth Mint

Free Insured Delivery


1oz Gold Bar | Black Certicard | Perth Mint

Free Insured Delivery


Mixed Years 1oz Gold Nugget Coin | Perth Mint

Free Insured Delivery


2022 1oz Gold Kangaroo Coin | Perth Mint

Free Insured Delivery


More Info

| QTY | VAT Free |
| --- | --- |
| 1+ | £1,669.19 |
| 5+ | £1,665.85 |

2021 1oz Dragon Rectangular Gold Coin | Perth Mint

Free Insured Delivery


2021 1oz Emu Gold Coin | Perth Mint

Free Insured Delivery


More Info

| QTY | VAT Free |
| --- | --- |
| 1+ | £1,702.69 |
| 5+ | £1,695.88 |