Free Fully Insured Delivery *

Call us on 0800 090 3256
Buy Gold Pandas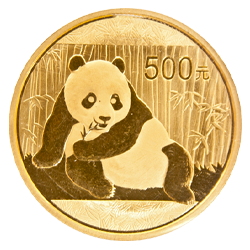 First issued back in 1982 by the People's Republic of China, this gold bullion coin series is the official mints flagship range with the famous Panda design. The design changes yearly and with the exception of the 2002 coin which was identical to the 2001 design due to a policy change which was quickly reversed after strong opposition from collectors.
With the exception of 2016 onward, the Panda Gold and Silver Coin range were minted in the old weight system of troy ounces. Going forward, the new Gold Panda Coins will be produced using the metric system.
Looking for a box or pouch to make your purchase the perfect gift or need a safer way to store your coins, we have a wide range of Gifts & Accessories available.