Free Fully Insured Delivery *

Due to current disruption with couriers, we are not currently dispatching any orders for delivery. You may still order to LOCK in your prices. Orders will be dispatched as shipping returns to normal.
Buy VAT Free Gold Bullion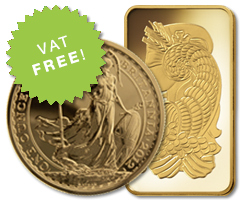 Welcome to our VAT Free Gold section.
We offer one of the widest choices of VAT Free Gold Bullion available in the UK from top manufacturers.
Pay securely online with Credit/Debit Card or by Bank Transfer with Free UK Delivery.
Can't find what you're searching for?
Call us on 01902 623 256 and speak to our sourcing team.
1 Gram Gold Bar Umicore

Free Insured Delivery


2.5 Gram Gold Bar Baird & Co

Free Insured Delivery


1/10oz Gold Bar Baird & Co

Free Insured Delivery


5 Gram Gold Bar Perth Mint Black Certicard

Free Insured Delivery


2018 5 Gram Gold Bar PAMP Lunar Dog Certicard

Free Insured Delivery


2020 5 Gram Gold Bar PAMP Lunar Rat Certicard

Free Insured Delivery


5 Gram Gold Bar Metalor

Free Insured Delivery


5 Gram Gold Bar Umicore

Free Insured Delivery


5 Gram Gold Bar Baird & Co

Free Insured Delivery


2020 Gold Full Sovereign

Free Insured Delivery


1/4oz Gold Bar Baird & Co

Free Insured Delivery


10 Gram Gold Bar Boxed Emirates Gold

Free Insured Delivery


10 Gram Gold Bar Metalor

Free Insured Delivery


10 Gram Gold Bar Umicore

Free Insured Delivery


10 Gram Gold Bar Valcambi Blue Pack

Free Insured Delivery


1 Tola Gold Bar PAMP Fortuna Veriscan

Free Insured Delivery


12 x 1 Gram Gold Bars PAMP Fortuna Multigram

Free Insured Delivery


1/2oz Gold Bar Baird & Co

Free Insured Delivery