Free Fully Insured Delivery *

Call us on 0800 090 3256
The British Gold Sovereign
The British Gold Sovereign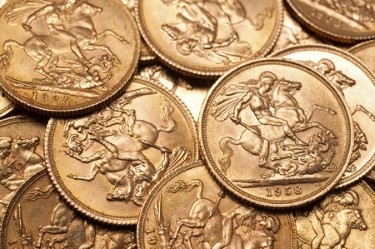 History of the Sovereign
The name and design of the Sovereign was inherited from the Royal British Household. The original Sovereign was struck for Henry VII in 1489. It was made of 23 carat Gold and weighed 240 grains, or 15.55 grams. However, during the reign of Henry VIII the purity of the coins was reduced to 22 carat Gold. This alloy is also known as Crown Gold, which is 22 parts Gold and 2 parts Copper. With the exception of 1887, when Silver was used instead of Copper, the alloy has remained unchanged.
From 1604 until 1817 the production of British Gold Sovereigns ceased; the coin was replaced by coins such as Unites, Laurels and Broads and eventually Guineas.
The Great Recoinage of 1816 was an attempt by the British Government to re-stabilise the currency of Great Britain following economic difficulties precipitated by the French Revolutionary Wars and the Napoleonic Wars. The Great Recoinage Law then set the weight of the pure Gold content of the Sovereign at 113 grains (7.32 grams) where it has remained ever since. Modern Sovereigns weigh 7.99 grams in total. The Gold content is 7.32 grams or 0.916 of the coin. The coins are therefore .916 pure or 22 carat. See an explanation of carat values here.
The British Gold Sovereign was the most widely distributed coin during the height of the British Empire. The Sovereign dominated monetary exchange from 1818 to the early part of the 20th Century.
During the expansion of the British Empire the locations of the Mint reached places such as Bombay (1918), Canada (1908-1919), Perth (1899-1931), Melbourne (1872), Sydney (1871) and Pretoria (1923). This ensured that an ample supply of British Gold Sovereigns was always available for trade.
During WW1, Britain needed Gold Bullion to finance the war effort. The Government requested British citizens to relinquish their Gold Sovereigns to assist in funds. The Sovereign stopped being used in everyday transactions virtually overnight; production at the Royal Mint ceased in 1917. (A few years earlier, in 1914, banknotes were introduced into circulation). In the 1930's the United States made ownership of foreign Gold coins illegal. The huge volume of Sovereigns received from Britain as payment for supplies and munitions during WW1 were melted down and made into Gold bars.
During World War II, Allied pilots carried British Gold Sovereigns in their survival kits as emergency money, in case of getting shot down over enemy territory. Even in the more recent 'Operation Desert Storm' the American pilots and the British SAS troops carried British Gold Sovereigns in their survival kits during operations over and inside Iraq. The fact that British Gold Sovereign coins were preferred by the most powerful nation in the world shows the worldwide acceptance that these coins have acquired.
Since the year 2000, modern British Gold Sovereigns have mainly been produced at the Royal Mint in Llantrisant, South Wales. However, in 2013 around 50,000 commemorative Sovereigns were made in India, in association with PAMP SA. This was the first time in almost 100 years that British Gold coins had been manufactured in India. The tools and techniques used in this project were developed by the Royal Mint at it's South Wales facility.
Throughout history, more than a billion Sovereigns have been minted. However, this figure does not truly represent the modern availability of these coins. Victorian banks often removed worn coins, melted them down and then recoined them. Additionally, foreign governments also melted coins down and reformed them into Gold bars or Ingots. The true representation of British Gold Sovereigns is, therefore, not possible to decipher because the modern British Gold Sovereign could be made of Gold from coins which had earlier been destroyed.
Sovereigns For Collectors
Older Sovereign coins tend to appreciate more in value if kept in good condition and so begin to attract a premium from collectors. Also, collections can be made in sets, e.g. by date, ruler, size or country of origin. Because Sovereigns have been minted for such a long period in various locations there are many anomalies to be found; for example, identifying letters for different Mints, coins released with imperfections and special designs. An example of such a special design is the Shield Sovereign minted between 1838 and 1887, with a shield as the design on its reverse and a portrait of Young Victoria on the obverse. In 2012 a special, modern reverse design was produced to commemorate the Queen's Diamond Jubilee. Isle of Man Sovereigns feature a Manx or Norse warrior on horseback rather than the usual St. George and dragon design. All of these differences, aided by fully documented records available to numismatists, make the Sovereign eminently collectible.
Sovereigns For Investors
Although the Krugerrand is often regarded as the most popular Gold investment coin, Sovereigns are smaller, more attractive and more historic; therefore they may be a better subject for investment. Because of the smaller size of the Sovereign, coin assets are more liquid and investments held in Sovereigns can be readily cashed in smaller amounts. Another attraction for collectors and investors is that, as Sterling currency, Sovereigns issued from 1837 onwards are not subject to Capital Gains Tax, even if their value increases or a profit is made on their sale. Read more about Capital Gains Tax Free Gold coins here.
Sizes Of Sovereign Coins
View our range of British Gold Sovereigns.
There are several different sizes of Gold Sovereign, the most popular are listed below :
Double Sovereign - weight 15.98 grams, 28.4mm in diameter with a Fine Gold content 14.63grams.
Full Sovereign - weight 7.9 grams, 22.05mm in diameter with a Fine Gold content 7.32 grams.
Half Sovereign - weight 3.99 grams, 19.30mm in diameter with a Fine Gold content 3.675 grams.
Quarter Sovereign - weight 2 grams, 13.5 mm in diameter with a Fine Gold content 1.83 grams.
We offer a range of Gold Sovereign coins and sets, including Full Sovereigns from the UK and the Isle of Man and Half Sovereigns.