Free Fully Insured Delivery *

Call us on 0800 090 3256
Royal Mail Strike Updates - Read More. Next dispatch date due to strike action is Tuesday 4th October.
Baird & Co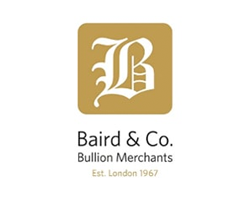 British Gold Bullion Bars
Established in 1967, Baird and Co. have grown from humble beginnings as coin dealers to the now well known bullion powerhouse and LBMA member it is today. We now boast a wide range of British cast and minted gold bars manufactured by Baird & Co. that are perfect for new and seasoned investors.
1oz Gold Bar | Baird & Co

Stock Notification System

For New Stock Email

1/2oz Gold Bar | Baird & Co

Free Insured Delivery


1/10oz Gold Bar | Baird & Co

Free Insured Delivery