Free Fully Insured Delivery *

Call us on 0800 090 3256
The Royal Mint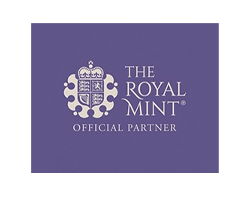 The Royal Mint is a national treasure, making beautifully crafted coins and medals for countries all over the world. Over a thousand years of craftsmanship and artistry ensures every piece it strikes is a long lasting piece of history. The Royal Mint exists principally to mint coins for circulation in the UK. However, it also manufactures and circulates coins for over 60 other countries, mints collectors' coins, and produces military medals and civilian decorations for the British armed forces and orders of chivalry.
The Royal Mint in London also produced coins for Canada until a branch was opened in Ottawa, Canada in 1908. In 1931, control of The Royal Mint's Canadian Branch was passed to the Canadian government and it then became the Royal Canadian Mint. The Royal Mint are LBMA Ordinary Members.
There are no products matching the selection.