Free Fully Insured Delivery *

Call us on 0800 090 3256
Buy CGT Free Silver Coins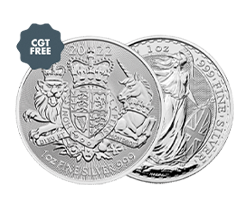 Capital Gains Tax Free Profits On These Silver Coins!
Silver Britannia coins are legal tender in the UK and therefore qualify as a Capital Gains Tax Free investment. Profits made from investments in these coins are not included in the calculation of your liability for Capital Gains Tax. Read more about Capital Gains Tax
Pay securely online with Credit/Debit Card or by Bank Transfer with Free UK Delivery.
Can't find what you're searching for?
Call us on 01902 623 256 and speak to our sourcing team.
32.15 Troy Oz or 999 grams of Fine Silver Content.
Learn More

Free Insured Delivery


Currently Out of Stock
Stock Notification System
Sign In
For New Stock Email