Free Fully Insured Delivery *

Call us on 0800 090 3256
Royal Mail Strike Updates - Read More. Due to high demand dispatch may take an additional 3-4 working days.
Special Offers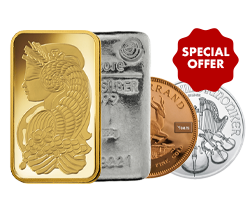 Welcome to our Special Offers Section.
Grab a bargain whilst you can.
These prices are subject to available stock levels and when they have gone, they have gone!
Pay securely online with Credit/Debit Card or by Bank Transfer with Free UK Delivery.
1oz 'Love Always' Silver Bar | PAMP Suisse

Free Insured Delivery
£/g to £/g Over Spot

1oz 'Love Always' Silver Bar in Premium Gift Box | PAMP Suisse

Free Insured Delivery
£/g to £/g Over Spot

1g Fortuna Gold Bar | Veriscan | PAMP Suisse

Free Insured Delivery


2.5g Fortuna Gold Bar | Veriscan | PAMP Suisse

Free Insured Delivery


2.5g Gold Fortuna Bar In Premium Display Box I PAMP Suisse

Free Insured Delivery


2.5g Rosa Gold Bar | Certicard | PAMP Suisse

Free Insured Delivery


5g Fortuna Gold Bar | Veriscan | PAMP Suisse

Free Insured Delivery


5g Rosa Gold Bar | Certicard | PAMP Suisse

Free Insured Delivery


5g 'Love Always' Gold Bar | PAMP Suisse

Free Insured Delivery


5g 'Love Always' Gold Bar in Premium Gift Box | PAMP Suisse

Free Insured Delivery


The Sovereign by The Royal Mint | Mixed Years

Free Insured Delivery


10g Fortuna Gold Bar | Veriscan | PAMP Suisse

Free Insured Delivery


Tube of 20x 2022 1oz Dragon Rectangular Silver Coins

Free Insured Delivery
£/g to £/g Over Spot

25 x 1oz Silver Bars | PAMP Fortuna Certicard in Box

Free Insured Delivery
£/g to £/g Over Spot

1/2oz Fortuna Gold Bar | Veriscan | PAMP Suisse

Free Insured Delivery


20g Fortuna Gold Bar | Veriscan | PAMP Suisse

Free Insured Delivery


25 x 1g Fortuna Gold Bars | Multigram | PAMP Suisse

Free Insured Delivery


25 x 1g Fortuna Gold Bars in box | Veriscan | PAMP Suisse | Special Offer

Free Insured Delivery


1oz Gold Krugerrand | South African Mint

Free Insured Delivery
£/g to £/g Over Spot

1oz Fortuna Gold Bar | Veriscan | PAMP Suisse

Free Insured Delivery


3 Tola Fortuna Gold Bar | Veriscan | PAMP Suisse

Free Insured Delivery


25 x 2.5g Gold Bars | PAMP Fortuna Veriscan in Box | Special Offer

Free Insured Delivery