Free Fully Insured Delivery *

Please Note - Due to high demand order dispatch may take 2-4 working days.
Special Offers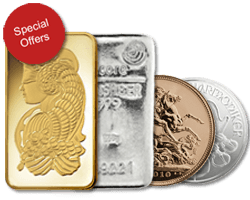 Welcome to our Special Offers Section.
Grab a bargain whilst you can.
These prices are subject to available stock levels and when they have gone, they have gone!
Pay securely online with Credit/Debit Card or by Bank Transfer with Free UK Delivery.
1 Gram Gold Bar PAMP Fortuna Veriscan

Free Insured Delivery


1 Gram Gold Bar PAMP Rosa Certicard

Free Insured Delivery


2.5 Gram Gold Bar PAMP Fortuna Veriscan

Free Insured Delivery


2.5 Gram Gold Bar PAMP Rosa Certicard

Free Insured Delivery


5 Gram Gold Bar PAMP Fortuna Veriscan

Free Insured Delivery


5 Gram Gold Bar PAMP Rosa Certicard

Free Insured Delivery


10 Gram Gold Bar PAMP Fortuna Veriscan

Free Insured Delivery


1/2oz Gold Bar PAMP Fortuna Veriscan

Free Insured Delivery


20 Gram Gold Bar PAMP Fortuna Veriscan

Free Insured Delivery


1oz Gold Krugerrand (South Africa)

Free Insured Delivery


1oz Gold Bar PAMP Fortuna Veriscan

Free Insured Delivery

50 Gram Gold Bar PAMP Fortuna Veriscan

Free Insured Delivery


100 Gram Gold Bar PAMP Fortuna Veriscan

Free Insured Delivery