Free Fully Insured Delivery *

Call us on 0800 090 3256
Buy VAT FREE Silver With 6 Months FREE Storage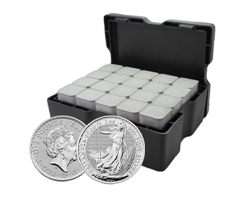 The most cost effective way to invest in silver.
VAT free silver offers you the easiest way to invest in silver without having to pay the Value Added Tax levied on Silver bullion purchases within the UK.
5 Kilograms (160.754 troy ounces)
0.999 Fineness
Learn More

Usually Ships Within In Stock
£/g to £/g Over Spot

500 Troy Oz (15,500.00 grams)
Fine Silver Content (999.0)
Learn More

Usually Ships Within In Stock
£/g to £/g Over Spot
Secure Storage
Storage is on a fully allocated basis in fully insured, high security vaults, right here in the UK. By buying silver within an LBMA vault you eliminate the VAT liability, saving that additional 20% initial cost.
We also cover the cost of allocation so there are no additional hidden costs when you buy VAT FREE Silver Bullion. The vaults that we use for storing your silver are provided by a fully accredited third party within the LBMA vault network. From the point of view of the tax authorities, your items are not in open circulation within the UK and therefore not subject to VAT.
These products are sold as storage only items for investors seeking long-term bullion storage and subsequent sale within the vault. Physical delivery of these products is not possible. Clients who may require future delivery should consider purchasing products from our standard range of silver bars and silver coins for storage within our own facility.
Your online storage account enables you to:
Monitor the value of your holding online in real time,
Sell your silver back to us using online sell requests,
Six Months of Free Storage
We are offering six months of free storage from the date of purchase. Once your free 6 months are up, our normal storage rates will apply from just £7.50 per month plus VAT.
Click here to see more details of the storage fees involved >
Selling Your Assets is Simple
We offer a guaranteed buyback option for VAT Free silver Storage Account holders.UK Bullion will purchase any metal held in a client's allocated storage account directly with no vault handling fees.
Submit Sell Requests directly from your online account or call in and speak with one of our specialists to arrange the sale of your stored assets. Our valuation team will contact you shortly after receiving your sales request confirmation email with a tailored sale schedule.
If you would like more information regarding our VAT Free Silver products, please contact our Customer Services Team on 01902 623 256 or email us on [email protected].