Free Fully Insured Delivery *

Due to staffing issues our phone lines will be closed until 9.30am Monday 6th April. You can still place orders through the website and LOCK IN PRICES for dispatch once shipping arrangements return to normal.
Baird & Co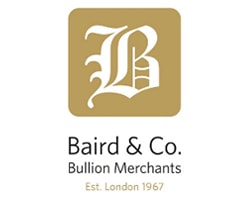 British Gold Bullion Bars
Established in 1967, Baird and Co. have grown from humble beginnings as coin dealers to the now well known bullion powerhouse and LBMA member it is today. We now boast a wide range of British cast and minted gold bars manufactured by Baird & Co. that are perfect for new and seasoned investors.
2.5 Gram Gold Bar Baird & Co

Free Insured Delivery


1/10oz Gold Bar Baird & Co

Free Insured Delivery


5 Gram Gold Bar Baird & Co

Free Insured Delivery


1/4oz Gold Bar Baird & Co

Free Insured Delivery


1/2oz Gold Bar Baird & Co

Free Insured Delivery


20 Gram Gold Bar Baird & Co

Free Insured Delivery