Free Fully Insured Delivery *

Call us on 0800 090 3256
Due to high demand order dispatch may be delayed by 2-3 days.
The Britannia Coin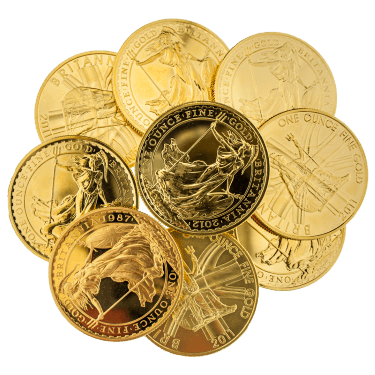 History
The figure of Britannia has appeared on British coins for many years; she even appeared on coins during the time of the Roman Emperors when she was portrayed by the Romans, depicting the colonization of a conquered country. Britannia was later pictured in ancient British war dress, maybe to symbolize how she resisted an invasion of the Romans. In later years Britannia was pictured sitting amongst the ocean waves - she was deemed to be the Queen of the Seas.
During the reign of Charles II (1630 to 1685), when the power of the British Navy was being challenged, Britannia appeared on Copper coins.
Over a century later in 1797, Britannia appeared again on 'cartwheel pennies' and two-penny coins. These coins were first struck in 1797 during the reign of King George III at the Soho Mint in Birmingham and were large coins weighing an ounce and with a diameter of 36mm. Britannia was pictured on these coins with a trident rather than a spear and was seated on rocks in the sea with a ship in the background. Later, Britannia regularly appeared on Bronze coins up until the decimalization of British coins. Today, she still appears on the British 50 pence coin and Silver and Gold bullion coins.
Gold Britannias
The first Gold Britannia coins were produced by the Royal Mint with a face value of £100 in 1987 and were aimed specifically at the international Gold market. Britannia was chosen to be utilised for these new coins as she is considered to be an immediately recognized personification of Great Britain. A striking depiction, by Philip Nathan, of Britannia standing by the sea, trident in hand was utilised for this first UK one Troy ounce Gold coin. These new British Gold coins were minted from 22 carat Gold, just as the well known Sovereign had been for generations. The initial Britannia coins weighed just over 34 grams and contained 1 Troy ounce or 31.10 grams of pure Gold.
The obverse of the Gold Britannia originally featured the Raphael David Maklouf portrait of HM Queen Elizabeth II. A later obverse version was designed by a professional sculptor named Ian Park-Broadley. In 1996 he was made a Freeman of the Worshipful Company of Goldsmiths and in the same year was granted the Freedom of the City of London. In 1997 he won a competition run by the Royal Mint to design a picture of Queen Elizabeth the Second to appear on the obverse of British coins. This image appears on coins minted after 1998.
The reverse design of the Gold Britannia has changed over the years with variations including two different standing poses, a seated pose, Britannia in a chariot, a helmeted Britannia and Britannia and a Union Flag.
From 2013 the Royal Mint changed the make-up of the 1 oz Gold Britannia from 22 carat .916 to 24 carat .9999 Gold. This change was presumably to allow easier comparison with rival nationality bullion coins which were increasingly produced from .9999 Gold. The dimensions of the new Britannia also changed. The new version of the coin is 32.69 mm in diameter and weighs 31.10 grams or 1 Troy ounce of pure 24 carat .9999 Gold.
We offer a selection of pre and post 2013 Gold Britannia coins here.
Silver Britannias
Silver Britannia coins with a face value of £2 were produced by the Royal Mint from 1997 onwards. The original coins were minted from 'Britannia' Silver of .958 purity. The coins have a 40mm diameter and weigh 32.45 grams with a fine Silver weight of 31.10 grams or 1 Troy ounce.
From 2013 onwards, Silver Britannias have been minted from .999 pure Silver. The new Britannias now have a diameter of 38.61mm and weigh 31.1gms or 1 Troy ounce.
In common with her Gold sister coin, the Silver Britannia has featured various designs to obverse and reverse but always features a portrait of HM Queen Elizabeth II on the obverse and a depiction of Britannia on the reverse.
We offer great prices and multi buy discounts on Silver Britannias here.
Britannia Coins for Investors
One of the most popular coins for investment purposes in the UK is the Gold Britannia Coin. Gold bullion coins have the advantage of allowing investors portable wealth; they can be exchanged for services, cash and/or goods almost anywhere in the world. Coins can be transported easily in small amounts and are universally recognised for their value.
Another advantage for residents of the United Kingdom is that both Gold and Silver Britannia coins are free from Capital Gains Tax and Gold Britannias are exempt from VAT..
Britannia Coins for Collectors
As an iconic British coin the Britannia is appealing to collectors. Numerous design changes to both the obverse and reverse of these coins has given much scope for sets based on dates and designs. A well known anomaly that is popular with collectors involved the Royal Mint stamping an incorrect obverse to certain coins. In addition the Britannia is available not only in Silver and Gold but also in different sizes.
---
Sizes of Gold Britannia Coins 1987 - 2012
One Troy Ounce Coin - weight 34.05 grams; diameter 32.69mm; Fine Gold Content of 31.104 grams
1/2 Troy Ounce Coin - weight 17.025 grams; diameter 27.00mm; Fine Gold Content of 15.552 grams
1/4 Troy Ounce Coin - weight 8.513 grams; diameter 22.00mm; Fine Gold Content of 7.776 grams
1/10 Troy Ounce Coin - weight 3.412 grams; diameter 16.5mm; Fine Gold Content of 3.11 grams
(1/12 of the alloy which is not Gold is Copper until 1989 and Silver from 1990)
2013
One Troy Ounce Coin - weight 31.20 grams; diameter 38.61mm; Fine Gold Content of 31.104grams
2014 - present
One Troy Ounce Coin - weight 31.20 grams; diameter 32.69mm; Fine Gold Content of 31.104grams
---
Sizes of Silver Britannia Coins 1997 - 2012
£2 Coin - weight 32.45 grams; diameter 40mm; Silver content 958/1000; Fine weight of 31.1 grams
£1 Coin - weight 16.22 grams; diameter 27mm; Silver content 958/1000; Fine weight of 15.55 grams
50p Coin - weight 8.11 grams; diameter 22mm; Silver content 958/1000; Fine weight of 7.77 grams
20p Coin - weight 3.2 grams; diameter 16.5mm; Silver content 958/1000; Fine weight of 3.1 grams
2013 - present
£2 Coin - weight 31.21 grams; diameter 38.61mm; Silver content 999/1000; Fine weight of 31.1 grams
£1 Coin - weight 15.71 grams; diameter 27mm; Silver content 999/1000; Fine weight of 15.69 grams
50p Coin - weight 7.86 grams; diameter 22mm; Silver content 999/1000; Fine weight of 7.85 grams
20p Coin - weight 3.15 grams; diameter 16.5mm; Silver content 999/1000; Fine weight of 3.1 grams
10p Coin - weight 1.58 grams; diameter 12mm; Silver content 999/1000; Fine weight of 1.578 grams