Free Fully Insured Delivery *

Due to staffing issues our phone lines will be closed until 9.30am Monday 6th April. You can still place orders through the website and LOCK IN PRICES for dispatch once shipping arrangements return to normal.
Buy Silver Coins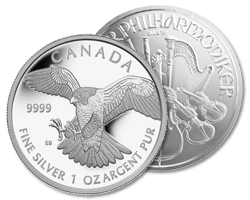 Silver Coins offer a lower entry point into the world of coin collecting than their Gold counterparts but this is not due to any lesser quality. Silver Coins are typically produced for both the collector and investor markets and feature a range of designs and themes allowing you to build an interesting collection from mints around the world. Some designs even feature additional colour accenting on the face or obverse to further add to the aesthetic quality and collectability. Check out our range of Silver Coins from Mints around the world and begin your collection here. Remember we also stock a range of accessories to properly store and display your collection.
Our Choice 1oz Silver Coin Investment Market

Free Insured Delivery
£/g to £/g Over Spot

10 Gram Silver Round Boxed Emirates Gold Happy Diwali

Free Insured Delivery
£/g to £/g Over Spot

10 Gram Silver Round MMTC-PAMP Tri God Coloured in Presentation Box

Free Insured Delivery
£/g to £/g Over Spot

1oz Silver Krugerrand Mixed Years (South Africa)

Free Insured Delivery
£/g to £/g Over Spot

20 Gram Silver Round Emirates Premium Happy Diwali

Free Insured Delivery
£/g to £/g Over Spot

10 Gram Silver Round MMTC-PAMP Tri-God Boxed Coloured

Free Insured Delivery
£/g to £/g Over Spot

20 Gram Silver Round MMTC-PAMP Goddess Lakshmi & Lord Ganesh in Presentation Box

Free Insured Delivery
£/g to £/g Over Spot

20 Gram Silver Coloured Round MMTC-PAMP Tri God in Presentation Box

Free Insured Delivery
£/g to £/g Over Spot

1oz Silver Round MMTC-PAMP Coloured Tri-God Design in presentation box

Free Insured Delivery
£/g to £/g Over Spot

20 Gram Premium Silver Lord Ganesh (Valcambi, Switzerland)

Free Insured Delivery
£/g to £/g Over Spot

50 Gram Silver Round MMTC-PAMP Tri God Coloured in Presentation Box

Free Insured Delivery
£/g to £/g Over Spot